Adele Is The New MVP of Simply Watching The Super Bowl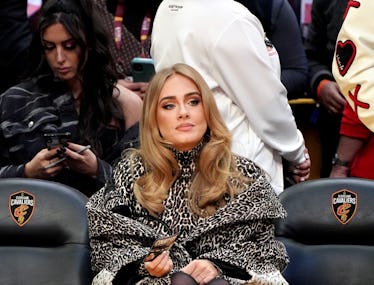 Kevin Mazur/Getty Images
If you resisted the urge to tweet "Why are they playing a football game at a Rihanna concert?" during the Super Bowl (cough cough, Cara Delevingne) boy, do we have some relatable content for you. Because on Sunday night, Adele was in the crowd for the big game giving that same "where's Rih?" energy all night and, of course, the Internet has already turned it into a meme.
Adele revealed she would be attending the Super Bowl during a recent show for her Las Vegas residency. While talking with a fan on stage the singer said, "I'm going just for Rihanna. I don't give a flying fuck who's playing." Well, she did not lie, and when Sunday rolled around, Adele was in the audience beside her boyfriend, sports agent Rich Paul. For the most part, Adele looked less than enthused about the sporting event. Granted, the singer is British, and therefore likely doesn't care about American football, but one could argue even if she was American, she would feel the same indifference toward the game. So, Adele sat in the stands, looking very chic in a gray double-breasted Fendi blazer with a matching Peekaboo bag and oversized sunglasses, sipping on her drink, giving little to no indication that she had any clue nor care about what was happening on the field.
Immediately, the Internet took to Adele's seeming lack of interest in the event. The moment was reminiscent of when the singer attended the 2022 NBA All-Star game, and couldn't even be bothered to give the camera a smile when they were showing her on TV. Of course, that clip was brought back up in the conversation surrounding her appearance at the Super Bowl.
But if the drink sipping video wasn't enough meme fodder for you, allow us to present Adele literally shushing her seat mates ahead of Rihanna's performance. It seems Paul and their friend were a little to chatty before the halftime show and Adele didn't want to risk missing even a second of the set. In another clip, the singer can be seen telling those around her to be quiet. "Please," she seems to say before making a "stop talking" motion with her hands. "Just stop." She did say she was only there for Rihanna, so she wanted to make sure she got the full experience, sans idle chatter.
Of course, the Internet could not get enough of the moment. "She said I'm here for Rihanna and Rihanna only," someone tweeted. "Adele can headline next year and she doesn't even have to perform just sit, look pretty and give us memes. I'll be entertained," wrote someone else. One person suggested inviting the singer to all major sporting events moving forward, just so we can get more of her reactions. Luckily for us, she is dating a pretty major name in the sports world, and as long as he keeps escorting her to events like the Grammys, hopefully she will return the favor at various games and the memes will never cease.