An Evan Mock Party Through the Eyes of His Brother, Alika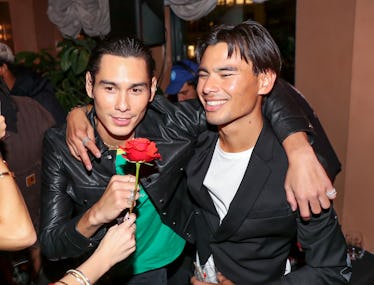 Neil Rasmus/ BFA
Alika Mock has walked the runway for Jacquemus, starred in a few brand campaigns, and happens to be the younger brother of Gossip Girl star and reigning fashion 'It' boy Evan Mock. But at his brother's Evan Loves You dinner party thrown by Pandora ahead of New York Fashion Week, the younger Mock was busy working. He'd flown in from the family home in North Shore Oahu, Hawaii, where he spends his free time surfing, to offer his services as a photographer. His name card-assigned place at the table was left unoccupied—instead, he worked the party like an old pro. He not only made sure to document the entire night of his brother (who attended alongside his girlfriend, the photographer Gray Sorrenti), but snapped guest Julia Fox in the shredded denim outfit that would make so many headlines the following morning. Despite their HBO Max show Gossip Girl's recent conclusion, Alika Mock also captured the enduring bond between his brother and cast mates Thomas Doherty and Eli Brown, who showed up to support.
Held at the rooftop of the new Ned Nomad hotel, the dinner was a celebration of Pandora's bold new chapter. With the brand's Italian creative director duo of Francesco Terzo and A. Filippo Ficarelli on hand, guests were encouraged to customize their own jewelry featuring the brand's new padlock charm (we kept running into guests throughout fashion week who still had theirs on). Pieces from the brand's lab-created Diamonds by Pandora line were also offered (Evan Mock was, of course, decked out in earrings, a ring, and a chain necklace from the line. Fox wore some as well).
As the night continued, tequila poured even more freely while guests eyed their new jewelry and the DJ turned the volume up, louder and louder. Alika Mock, while certainly not shy and making the social rounds, was still on duty in a corner, making sure to get the perfect shot of teenage blockchain artist Diana Silver posing with a neon sign.