Angelina Jolie Stuns in White With Son Maddox at a White House State Dinner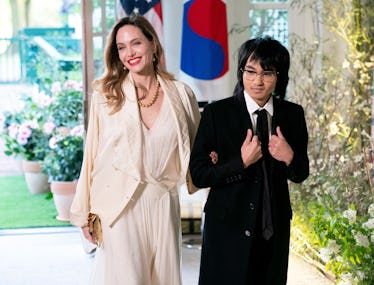 STEFANI REYNOLDS/AFP/Getty Images
Angelina Jolie was joined by her son Maddox Jolie-Pitt, 21, for a rare public event on Wednesday night. Then again, when the President comes calling, you can't say no. The pair attended the White House State Dinner as President Biden hosted South Korean President Yoon Suk Yeol and First Lady Kim Keon Hee.
The duo were especially put together at the event, with Jolie wearing an ivory V-neck dress with gathering at the waist, and a matching jacket with a quilted lapel and cuffs. According to People, the pieces are vintage Chanel, made specially for her years ago. The actress accessorized the look with a gold clutch, a necklace of gold beads, and a bold red lip. Maddox, meanwhile, looked sophisticated in a classic black suit and coat.
"Asia-America relations are important to Angelina's family," a source told People. "She and the children have had close ties to the region, including South Korea, for many years." Maddox enrolled at Yonsei University in Seoul in 2018, and while his time there was cut short due to the pandemic, he has assumedly returned since its reopening. Jolie visited her son when he first began school and spoke on her son's educational decision in 2020.
"I could not be happier about Mad's choice of university," she told South Korea's Dong-a Ilbo. "We are all so happy, as a family, that we will have the opportunity to get to know South Korea even better through Maddox, and with him, during his studies."
Jolie and Maddox, who is the oldest of the actress's six kids with Brad Pitt, were joined at the dinner by other notable attendees, including Fixer Upper stars Chip and Joanna Gaines and Olympic snowboarder Chloe Kim. The visit from the South Korean leader and his wife "celebrates the 70th anniversary of the U.S.-ROK alliance, which is critical to advancing peace, stability, and prosperity for our two countries, the Indo-Pacific, and around the world," according to a press release.