According to Frieze and Art Basel, the Future of Art Fairs Is Aboard Superyachts
See you on board, Leonardo DiCaprio.
---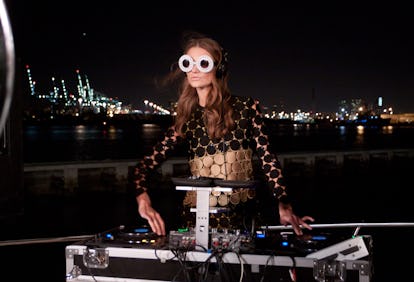 John Parra/Getty Images
Great news for Leonardo DiCaprio, who's wont is to spend his day aboard yachts in the company of both his 21-year-old girlfriend (under the supervision of her mother) and the billionaire David Geffen, and is also the perennial VIP star of the art fair Frieze. His two luxury interests are now combining, thanks to a seaside stand-off between Frieze and Art Basel, both of which are planning to launch "boutique art fairs" aboard so-called Floating Freeport Ships. (Or, as they'll apparently soon be known, FSFs.)
According to the Art Newspaper, both Frieze and Art Basel are currently on the hunt for the vessel most suited to their purposes, i.e., tempting collectors to throw caution to the coastal wind with their purchases—which, by the way, will be tax-free.
Both Frieze Floats and Basel Boats will reportedly play host to around 35 galleries apiece, which is quite the downgrade from the usual. (Frieze New York featured 190 galleries last year, whereas Art Basel had 268,000 and nearly 300,000 at its Miami Beach and Switzerland locations, respectively.) In keeping with its oversize scale, Basel is also set to outfit its superyachts with suites designed by blue-chip artists Jeff Koons and Damien Hirst—a natural next step for the latter, who's already in the process of bringing his multimillion-dollar work to a body of water.
If all goes as planned, though, the pool of a Las Vegas casino is undoubtedly smaller than the settings Frieze and Basel have been eyeing. Frieze, for one, appears to be planning a voyage between England and France along the the English Channel, which will come complete with reinterpretations of "what it means to be on a cruise in the post-colonial age." According to Victoria Sidell, Frieze Fairs's director, that means bingo nights and cabaret—an experience that collectors can remember for the ages by purchasing one of the rubber dinghies that will have accompanied them on the ride, which will each be designed by artists who have "responded enthusiastically to the potential of this medium." (The proceeds, according to Sidell, will be donated to charity.)
As for Basel, the Art Newspaper is betting that the fair will float on down to its usual haunt: the nonstop party zone that is Miami Beach. Rest assured, though, that the company is thinking bigger than that. From the sound of it, as described by Basel's global director, the company has come to consider its "radical alternative to the traditional land-locked art fair" to be revolutionary, "chim[ing] with an art world that increasingly operates without borders, both aesthetically and commercially."
A Brief History of Celebrities Getting Silly at Art Basel Miami
Before she moved to Mykonos, Lindsay Lohan was appreciating the art in Miami in 2013.

Aaron Davidson/Getty Images
Pamela Anderson immersed herself in the art at Art Basel Miami in 2008.

Gustavo Caballero/Getty Images
Cardi B turned up at a Moschino party with Jeremy Scott at Art Basel Miami in December 2017.

Thaddaeus McAdams/Getty Images
Drake rolled around in a golf cart after his performance during Art Basel in 2017.

Photo by @champagnepapi.
Iggy Pop naturally performed shirtless at an Art Basel Miami party with The Stooges in 2007.

Larry Marano/Getty Images
Solange, who was spinning at an Art Basel Miami party in 2011, ran into her friend Janelle Monáe behind the DJ booth.

Andrew H. Walker/Getty Images
Adrian Grenier took to the beach to answer what could only be some important work emails under an umbrella at Art Basel Miami in 2013.

Alo Ceballos/Getty Images
Diddy did not let an injured arm stop him from showing up to Art Basel Miami in 2011.

Gustavo Caballero/Getty Images
Lenny Kravitz opted for a pair of silver boots to wear while traipsing the beach at Art Basel Miami, instead of going barefoot, in 2013.

Alo Ceballos/Getty Images
The first Paris Hilton Art Basel Miami appearance took place in 2006, just four years after the inaugural Miami Beach show.

John Parra
Venus Williams assessed the art—while wearing a pair of fur-trimmed boots in the tropical locale—during Art Basel Miami in 2010.

Uri Schanker
Rosario Dawson and Young Paris partied together in the evening at Art Basel Miami in 2016.

Sean Zanni
Muhammad Ali gave Will Smith some bunny ears at Art Basel Miami in 2013, just two years after Smith portrayed the iconic boxer in Ali.

Gregorio Binuya/Getty Images
Before she became a Cool Mom, Slick Woods partied at Art Basel Miami in 2017 with Jeremy Scott.

Thaddaeus McAdams/Getty Images
Of course Beyoncé and Jay-Z have made a pilgrimage or two to Art Basel Miami. This one took place in 2008.

Gustavo Caballero/Getty Images
Pharrell performed at an Art Basel Miami party in 2010.

Gustavo Caballero
Faye Dunaway was very excited to pose in front of some Fernando Botero paintings at Art Basel Miami in 2008.

Patrick McMullan/Getty Images
Before landing at the helm of Louis Vuitton, Virgil Abloh performed a DJ set at Art Basel Miami in 2014.

Alexander Tamargo/Getty Images
There's no word, however, on how either fair plans to prevent the disasters that have increasingly plagued artworks that make their way onto superyachts. Here's hoping those at both fairs, plus those who make it only their lists—both, naturally, are planning to keep things invite-only—take care to avoid a repeat of that time a Jean-Michel Basquiat fell victim to a voyage at sea, where it scared a billionaire's children enough that they threw corn flakes at it. (Apparently under the impression that it was just "some painting," the yacht's crew attempted to remedy the situation by simply wiping the crumbs off the canvas.)
Related: The Most Absurd Reasons That Artworks Have Been Damaged, From Champagne Corks to Cornflakes
Which Media Mogul's Yacht Has Had More Famous People On It?
David Geffen poses with Gayle King, Julia Roberts, Maria Shriver, and Oprah Winfrey on his multimillion dollar yacht.

Photo by @davidgeffen.
Steven Spielberg celebrated his 70th birthday at sea with David Geffen, JJ Abrams, and Martin Short.

Photo by @davidgeffen.
Leonardo DiCaprio poses solo on David Geffen's yacht.

Photo by @davidgeffen.
Gayle King, Diane Sawyer, and Oprah Winfrey pose on David Geffen's yacht. Even Diane von Furstenberg jumped ship from one yacht to the next to make it on this trip.

Photo by @davidgeffen.
Karlie Kloss (a major member of the David Geffen yacht crew) poses on the ship.

Photo by @davidgeffen.
Jen Meyer and David Geffen hug it out onboard the Rising Sun.

Photo by @davidgeffen.
Karlie Kloss, Josh Kushner, and Sir Paul McCartney were just a few of the big names all on board the Rising Sun at one time.

Photo by @davidgeffen.
Andy Cohen joined Diane von Furstenberg on her yacht (which she co-owns with Barry Diller).

Photo by @bravoandy.
Irina Shayk, Bradley Cooper, Anderson Cooper, and Allison Williams pose for a group photo on von Furstenberg's boat.

Photo by @therealdvf.
Karlie Kloss and Harry Styles took a lunch break ini front of some sunflowers on Eos.

Photo by @therealdvf.
Diane von Furstenberg and Gayle King live it up on a yacht once again.

Photo by @dvf.