WHERE IN THE WORLD IS LEONARDO DICAPRIO
Leonardo DiCaprio and Camila Morrone, Still Dating After Eight Months, Have Absconded to Europe for the Ultimate Summer Vacation
Wherever they go, they can't help but end up on a yacht.
---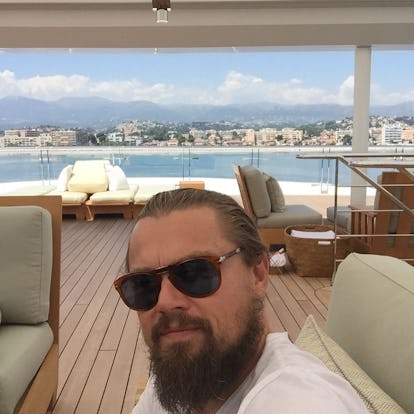 Photo by @davidgeffen.
Here are some things Leonardo DiCaprio loves: wearing hoodies and "going incognito"; acting in Martin Scorsese films; the environment; being on yachts; and dating (much) younger models and actresses. He has, over the past couple of years, been publicly linked to Nina Agdal, Kelly Rohrbach, and Toni Garrn, but since December, it's model-slash-actress Camila Morrone who has consistently been at Leo's side. The two were first spotted shopping together late last year, and they've showed up together at regular intervals throughout the year; now, they're venturing across Europe while DiCaprio is on a break from shooting the Quentin Tarantino–directed Once Upon a Time in Hollywood and Morrone is in between promotional gigs for her Augustine Frizzell–directed comedy Never Goin' Back.
Morrone, 21, first emerged as a Victoria's Secret model signed to IMG before she made her starring feature-film debut in Never Goin' Back. (She had a small role in 2013's Bukowski.) She and DiCaprio have reportedly known each other for roughly a decade, though it wasn't until late last year that they were romantically linked; she's also friends with Kendall Jenner and Bella Hadid, having been part of their post–Fyre Festival Bahamas expedition that also featured some feral pigs.
Earlier this week, Morrone and DiCaprio were seen on a yacht in Antibes, a resort town adjacent to Cannes, in France, along with Morrone's mother, Lucila Sola. Normally, meeting your girlfriend's parents is a somewhat daunting prospect, but DiCaprio has taken it in stride considering it was through Morrone's stepfather, the actor Al Pacino, that the two were first introduced. (The prospects of a double date boggle the mind.) When he wasn't overcome with disgust, DiCaprio and Morrone looked to be having quite the relaxing afternoon on the yacht deck.
Before making their way to Antibes, the couple met up in St. Tropez (one of DiCaprio's favorite haunts, where his foundation hosts its annual gala) for lunch—again with Sola—and even more yachting. And after Antibes, they sprinted off to Positano, in Italy, where they went for a leisurely stroll and will probably find their way onto a yacht again, because it's simply a hazard of summer vacation. They also stopped in Capri, judging by Morrone's Instagram—so perhaps DiCaprio, who has yet to appear on her feed, is her personal photographer for all these adventures.