Relax—Austin Butler Has Vowed to Fix the Elvis Voice Issue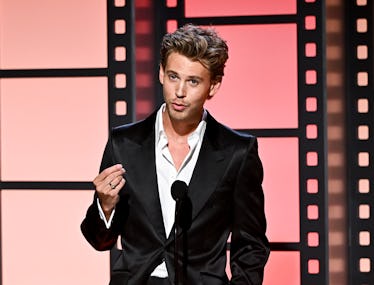 Michael Buckner/Variety/Getty Images
It's been a matter of international interest for months now, causing grave concern in group chats, Twitter threads, and around family dinner tables. Innocent people, sometimes even children, have been kept up late at night, haunted by the mystery of Austin Butler's new voice.
The Anaheim-born actor has adopted a slight but unmissable Memphis-lite twang in his speaking voice while out doing the press rounds promoting his star turn in Elvis. Even his celebrity ex Vanessa Hudgens has noticed. But now, Butler himself has realized the gravity of the issue, and promised to tackle it head-on. We can all now breathe a sigh of relief (hopefully, in our own individual, natural inflections).
"I am getting rid of the accent, but I have probably damaged my vocal cords with all that singing," Butler recently told British chat show host Graham Norton.
The actor says he tries to stay off of social media (a good idea!), but when his publicist informed him of the online infatuation with his voice, he actually got a bit self-conscious. He started to wonder if he really had lost control of his own voice. Pardon us as we say that he was, well, all shook up.
However, we also now have late breaking reassurance that Butler's twang will not be heard in the upcoming Dune: Part 2.
Co-star Dave Buatista told USA Today that Butler is "sweet" off camera, but the aura he created to play Feyd-Rautha, a character described across the Internet as a sort of "dark space twink," is something altogether different—decidedly not the King of Rock & Roll.
"I don't know who this guy was, but it's not Austin Butler," said Bautista. "It's not Elvis. His voice is different, his look is different. Everything about his demeanor is terrifying."
The character, played by Sting in David Lynch's 1984 version of the film, is meant to be treacherous and a merciless combatant. So that's good news. (Bautista used to wrestle in the WWE—we'll consider him a trusted source on terrifying demeanors.)
At times, Butler claimed he didn't notice the Elvis-esque inflection in his own voice until other people mentioned it, but says that the three years he spent preparing and shooting the role may have taken its toll. His Australia vocal teacher even chimed in, claiming that the affect was not only genuine, but could be permanent.
Yet, some corners of the Internet claim the whole thing was overblown, anyway. If you go back to interviews circa 2016, when he was promoting his role as a heroic half-elf on MTV's fantasy series The Shannara Chronicles, his voice doesn't sound that different.
Then again, we did find some interviews from the time he was promoting the semi-forgotten Sex and the City-prequel The Carrie Diaries, which was shot in New York City. It almost seems he has a bit of a New York bent to his voice. "Yeah, it's just been a good time filming in New York, you know?" he says at the 18 second mark. In fact, he almost sounds like Steve Brady—so maybe this is just an unintentional habit for Butler. He's an actor, after all. His job is literally to inhabit other people.
Whatever the case, we can all rest easy knowing he's identified the Elvis voice issue and has vowed to work on it. If nothing else, perhaps someone can cast him in a role as a guy from Anaheim (the guitarist in a No Doubt biopic?) and he can return to his factory settings.