Everything to Know About Beyoncé's New Album, Renaissance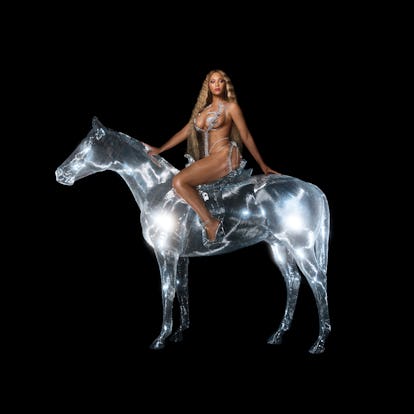 Renaissance by Beyoncé. Image courtesy Parkwood Entertainment
If you've been listening to "Break My Soul" on repeat since it dropped, you've come to the right place. At midnight EST on July 29th, Beyoncé officially released her seventh studio album prompting a wave of memes and Twitter reactions. Here, all the details on Renaissance—including new samples, collaborations, surprise announcements, and more—keep checking back here where we will be updating you with all the latest information.
Have there been any updates since Renaissance was released?
All anyone has been talking about since Renaissance's release is, unsurprisingly Renaissance. For the most part, the chatter has been positive, with the album receiving great reviews from both fans and critics. There has been a bit of backlash, however, when it comes to one of the tracks on the album, "Heated." In the song, Beyoncé uses the ableist slur "spaz," saying, "Spazzin' on that ass, spazz on that ass." According to writer and disability activist Hannah Diviney, the term spastic is related to cerebral palsy and the "unending painful tightness" she feels in her legs as a result of her condition. Diviney previously called Lizzo out for using the same term in her song, "GRRRLS," and got her to change the lyric. Following the release of Renaissance, Diviney spoke out again in an opinion piece for The Guardian, writing, the "stakes feel higher" when it comes to Beyoncé. "She's often the blueprint for the music industry—with artists and entertainers following her lead," Diviney said.
It didn't take long following the publication of Diviney's article for Beyoncé to take note and immediately jump into action. In a statement, the singer announced the term will be removed. "The word, not used intentionally in a harmful way, will be replaced," Beyoncé's rep said, according to People.
What songs are sampled on Renaissance?
In a note shared by Beyoncé ahead of her seventh album release, the singer took time to thank some people for what they added to the album. "Thank you to all of the pioneers who originate culture, to all of the fallen angels whose contributions have gone unrecognized for far too long," she wrote. "This is a celebration for you." And she was not lying. Beyoncé samples many songs throughout the album, providing her fans with an introduction to many tracks and artists they may have been previously unaware of. Below, we breakdown all the samples by track.
"I'm That Girl" samples '90s trap artist, Tommy Wright III's song, "Still Pimpin"
"Alien Superstar" uses "Moonraker" by the DJ The Foremost Poets, who also goes by Johnny Dangerous. There's also a reference to Right Said Fred's "I'm Too Sexy," a favorite among modern artists. Finally, Beyoncé features a speech by the founder of Harlem's National Black Theater, Barbara Ann Teer, which was also used in "Do It Your Way" by Mood II Swing.
"Cozy" features Lidell Townsell and M.T.F.'s "Get With U" as well as an excerpt from TS Madison's viral speech, "Bitch I'm Black.
"Cuff It" includes "Ooh, La La La" by Teena Marie
"Energy" samples "Milkshake" by Kelis, though the singer has made it clear that she isn't thrilled about the inclusion as she wasn't asked for permission.
You know by now that "Break My Soul" samples the remix of Robin S's "Show Me Love."
It's fitting that "Church Girl" features gospel singers The Clark Sisters and their track, "Center of Thy Will." The song also samples James Brown by using his song with Lyn Collins, "Think (About It)."
Beyoncé sampled and used the name from Kilo Ali's song, "Cocaine (America Has a Problem)" for her track, "America Has a Problem."
"Pure | Honey" features Moi Renee's "Miss Honey" as well as "Cunty" by Kevin Aviance.
Yup, that's Donna Summer's "I Feel Love" sampled on "Summer Renaissance."
Did Renaissance leak?
Yes, despite Beyoncé's famous ability to keep all of her projects under wraps until the official launch date, the album leaked almost two days early. According to Variety, the CD hit international shelves ahead of schedule prompting social media users to immediately share the tracks online. Usually, fans would jump at the opportunity to listen to tracks ahead of their official release, but Beyoncé fans stayed loyal and waited, refusing to give into the leakers. Beyoncé clearly appreciated this and later penned a note to her fans in response.
"So the album leaked and you all actually waited until the proper release time so you can all enjoy it together," she said. "I've never seen anything like it. I can't thank y'all enough for your love and protection." She continued, sharing her appreciation for the fans "calling out anyone that was trying to sneak into the club early," before wrapping up the message with a promise. "I will continue to give my all and do my best to bring you joy."
What has Beyoncé said about Renaissance?
Ahead of the Renaissance's release, Beyoncé shared a note on her website, giving fans an inside look into what inspired the album, which, by the way, is the first of a "three act project," meaning there's more new Bey to come.
The singer explained that all three acts, including Renaissance, were recorded during the pandemic. "A time to be still, but also a time I found to be the most creative," she wrote in the note, shared on Twitter by a fan account, @BeyLegion. "Creating this album allowed me a place to dream and to find escape during a scary time for the world. It allowed me to feel free and adventurous in a time when little else was moving. My intention was to create a safe place, a place without judgment. A place to be free of perfectionism and overthinking."
Beyoncé then went on to share her acknowledgments and thanks for the album, starting with her three kids, Blue Ivy, Rumi, and Sir. On the top of the note, the trio is pictured in a rare seflie with Beyoncé in bed. She also thanks her husband, Jay-Z, her uncle Jonny for exposing her to "a lot of the music and culture that serve as inspiration" for the album, and her parents. Beyoncé then rounded out her note with a thanks to "all of the pioneers who originate culture" and to "all of the fallen angels whose contributions have gone unrecognized for far too long."
Is there a track list for Renaissance?
On July 20th, Beyoncé blessed us with the full track list for the album ahead of its release later this month. The singer shared the song titles on her Instagram story, along with a countdown to the album's official launch. The 16-track list includes songs like, "Alien Superstar," "America Has A Problem," and "Virgo's Groove," which, according to entertainment Twitter account, @PopCrave, is the longest song on the album with a run-time of six minutes and eight seconds.
As for who will be featured on these tracks (if anyone), we will likely have to wait until July 29th, when the album is released, to find out. Until then, check out the full track list below:
I'm That Girl
Cozy
Alien Superstar
Cuff It
Energy
Break My Soul
Church Girl
Plastic Off the Sofa
Virgo's Groove
Move
Heated
Thique
All Up in Your Mind
America Has a Problem
Pure/Honey
Summer Renaissance
Does Renaissance have an album cover?
A week following the release of Renaissance's first single, Beyoncé took to Instagram to break her silence on the album, and share the highly anticipated cover art. In an image that fits squarely with the predicted disco theme of Renaissance, the album's cover seems to be influenced by the famous photo of Bianca Jagger's on horseback at Studio 54 in 1977. Giving a mixture of Jagger and John Collier's 19th century painting of Lady Godiva, Beyoncé sits atop a horse that could be straight from the Metaverse, glowing with lighting from within. As always, Beyoncé looks extremely majestic, wearing a silver chain look by Nusi Quero, her hair cascading down her shoulders.
Along with the photo, Beyoncé shared a message to her fans, opening up about the process of making an album during the pandemic. "Creating this album allowed me a place to dream and to find escape during a scary time for the world," she said. "It allowed me to feel free and adventurous in a time when little else was moving. My intention was to create a safe place, a place without judgment. A place to be free of perfectionism and overthinking. A place to scream, release, feel freedom. It was a beautiful journey of exploration." The singer ended her note, telling fans that she hopes they "find joy in this music" and, of course, "release the wiggle."
Are any songs off Renaissance out now?
Instead of dropping the whole album out once, Beyoncé has decided to give fans a little treat and just released the first single, "Break My Soul" less than a week after initially announcing the album. The song is a mood-boosting dance jam that heavily samples from Robin S' "Show Me Love" remix. And with lyrics like "And I just quit my job/I'm gonna find new drive, damn, they work me so damn hard," it has quickly become the soundtrack to the Great Resignation brought on by the pandemic.
What can we expect from Renaissance?
If "Break My Soul" is any indication, we can expect an album of house beats that will be playing at parties throughout the summer and beyond. Initial speculation that the album would take on a retro beat began after the publication of Beyoncé's British Vogue cover story where the magazine's editor-in-chief, Edward Enninful, described the music for readers. "Instantly, a wall of sound hits me," he wrote. "Soaring vocals and fierce beats combine and in a split second I'm transported back to the clubs of my youth." Enninful continued, calling the songs "music I love to my core. Music that makes you rise, that turns your mind to cultures and subcultures, to our people past and present, music that will unite so many on the dance floor, music that touches your soul." The magazine's cover shoot could also serve as a hint to the album's sound. The photos are distinctly retro, with a disco feel. So far, "Break My Soul" fits into that aesthetic, so it seems like Beyoncé will be touching on the '70s and the vibe of Studio 54 for this new album, which would be a bit of a departure from her usually modern sound.
As far as the number of tracks, fan account Beyoncé Legion is suggesting the album will include 16, and considering it's called act i, there could be more acts to follow.
When will Renaissance be released?
The full album will be released on July 29th. Of course, Beyoncé could surprise drop another single before then, so we all must stay vigilant.
Does Renaissance have merch?
Of course it does! On Beyoncé's website, she's selling four different boxsets, which you can preorder now. Each set comes with a t-shirt featuring Beyoncé in one of four poses, a CD of the album, and the collectible box itself. The boxsets will ship on July 29th, upon release of the new album. As of now, though, three out of four of the box options are sold out.
This article was originally published on