Beyoncé Embodies Bianca Jagger In The 'Renaissance' Cover Art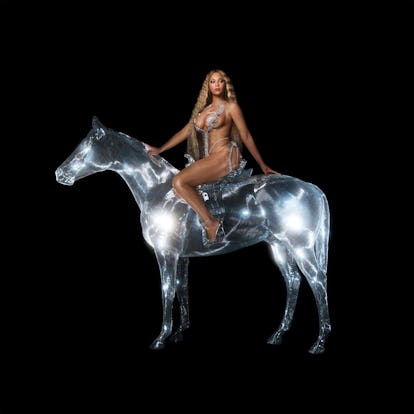 @beyonce
If you've been listening to "Break My Soul" on repeat since it dropped, you've come to the right place. In less than six weeks time, we will have a whole new Beyoncé album in our life, and you aren't going to want to miss one bit of information when it comes to this news. So, to make sure you're up to date on all things Renaissance—including new singles, collaborations, surprise announcements, and more—keep checking back here where we will be updating you with all the latest information.
Does Renaissance have an album cover?
A week following the release of Renaissance's first single, Beyoncé took to Instagram to break her silence on the album, and share the highly anticipated cover art. In an image that fits squarely with the predicted disco theme of Renaissance, the album's cover seems to be influenced by the famous photo of Bianca Jagger's on horseback at Studio 54 in 1977. Giving a mixture of Jagger and John Collier's 19th century painting of Lady Godiva, Beyoncé sits atop a horse that could be straight from the Metaverse, glowing with lighting from within. As always, Beyoncé looks extremely majestic, wearing a silver chain look by Nusi Quero, her hair cascading down her shoulders.
Along with the photo, Beyoncé shared a message to her fans, opening up about the process of making an album during the pandemic. "Creating this album allowed me a place to dream and to find escape during a scary time for the world," she said. "It allowed me to feel free and adventurous in a time when little else was moving. My intention was to create a safe place, a place without judgment. A place to be free of perfectionism and overthinking. A place to scream, release, feel freedom. It was a beautiful journey of exploration." The singer ended her note, telling fans that she hopes they "find joy in this music" and, of course, "release the wiggle."
Are any songs off Renaissance out now?
Instead of dropping the whole album out once, Beyoncé has decided to give fans a little treat and just released the first single, "Break My Soul" less than a week after initially announcing the album. The song is a mood-boosting dance jam that heavily samples from Robin S' "Show Me Love" remix. And with lyrics like "And I just quit my job/I'm gonna find new drive, damn, they work me so damn hard," it has quickly become the soundtrack to the Great Resignation brought on by the pandemic.
What can we expect from Renaissance?
If "Break My Soul" is any indication, we can expect an album of house beats that will be playing at parties throughout the summer and beyond. Initial speculation that the album would take on a retro beat began after the publication of Beyoncé's British Vogue cover story where the magazine's editor-in-chief, Edward Enninful, described the music for readers. "Instantly, a wall of sound hits me," he wrote. "Soaring vocals and fierce beats combine and in a split second I'm transported back to the clubs of my youth." Enninful continued, calling the songs "music I love to my core. Music that makes you rise, that turns your mind to cultures and subcultures, to our people past and present, music that will unite so many on the dance floor, music that touches your soul." The magazine's cover shoot could also serve as a hint to the album's sound. The photos are distinctly retro, with a disco feel. So far, "Break My Soul" fits into that aesthetic, so it seems like Beyoncé will be touching on the '70s and the vibe of Studio 54 for this new album, which would be a bit of a departure from her usually modern sound.
As far as the number of tracks, fan account Beyoncé Legion is suggesting the album will include 16, and considering it's called act i, there could be more acts to follow.
When will Renaissance be released?
The full album will be released on July 29th. Of course, Beyoncé could surprise drop another single before then, so we all must stay vigilant.
Does Renaissance have merch?
Of course it does! On Beyoncé's website, she's selling four different boxsets, which you can preorder now. Each set comes with a t-shirt featuring Beyoncé in one of four poses, a CD of the album, and the collectible box itself. The boxsets will ship on July 29th, upon release of the new album. As of now, though, three out of four of the box options are sold out.
This article was originally published on