The Valentino Purse Blue Ivy Carter Wore to the Grammys is Selling Out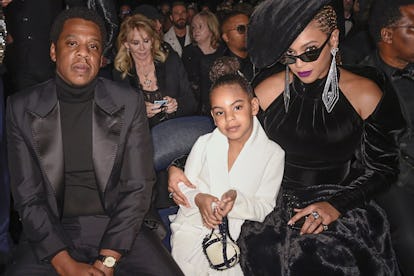 Michele Crowe/CBS
It's Blue Ivy Carter's world, and we're all just living in it. In just one appearance at the 2018 Grammy Awards, the eldest daughter of Beyoncé and Jay-Z has inspired several memes and singlehandedly made kitten heels cool again. Now, the iconic 6-year-old's Grammys cameo is making headlines again for her choice of accessory: a $2,675 Valentino purse.
As reported by People, Blue Ivy matched her white coat and trousers combo and silver kitten heels with Valentino's Rockstud Carry Secrets Leather Clutch. The bag is made of smooth ivory leather and shaped like a heart, suspended by navy leather straps embellished with gold pyramid studs. As of Tuesday, a mere two days after Blue Ivy graced the Grammys with her presence, the clutch is now quickly selling out.
This is not the first time Blue Ivy has casually toted around a $2,000-plus purse — last February, she attended the 2017 Grammy Awards in a Prince-inspired Gucci pink pantsuit, carrying a matching Gucci clutch that cost $2,490. Shaped like a cat's head with Swarovski crystals for eyes, the sparkly pink handbag also boasted kitty-shaped charms, pearl dangles, a plexiglass exterior, and a lining made of glitter.
Feline Grammys accessories seem to be a trend for the Carter family. At the last Grammys, Jay-Z sported a diamond-and-onyx-encrusted Cartier ring shaped like a panther's head. (The cost? $180,000, before tax.) This year, Beyoncé was the one to show off something cat-inspired: She wore a pair of panther-shaped earrings to a pre-Grammys party, and to the 2018 Grammy Awards, she carried a sparkling clutch shaped like a black panther. No big deal, right? It's not like there's a hotly anticipated movie that rhymes with Schmack Schmanther, with an unreleased soundtrack, coming out this year.
Related: Blue Ivy Wore a Gucci Dress to the Beauty and the Beast Premiere