How Bunny Mellon met Robert Isabell
Hyannis Port, 1986: Rachel Lambert "Bunny" Mellon, Robert Isabell's closest friend, recalls how they met.
---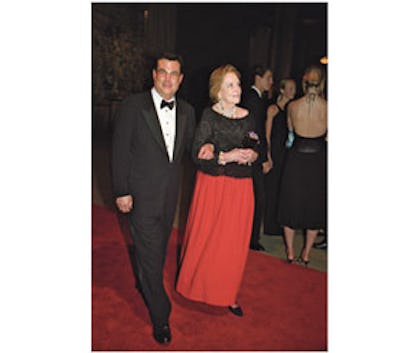 Jackie asked me to come over and help her with plans for Caroline's wedding. Mr. George Trescher, a well-known party planner who was coming over to help her, brought Robert Isabell. When we began getting into the details, like tablecloths and flowers, the two men were suggesting such things as a ceiling in the tent decorated with cellophane ribbons. I interrupted and said, "You can't have that; she has to have real silk ribbons." As the discussion went on, the next question was tablecloths. They suggested rather garish colors. Again, I interrupted and said, "No. She has to have well-designed cotton or linen cloth in pastel colors that could be made by Tillets."
Robert looked at me in a questioning way and later told me he had said to Mr. Trescher, "Who is this woman telling Mrs. Kennedy what to do?"
Mr. Isabell was in charge of the flowers. In my first conversation with him he gave me ideas of his designs and how he was going to use the flowers. His questioning and demeanor changed to a friendly manner. He seemed to recognize that I knew flowers. This event turned out very well and happy for everyone. Later in the week [after the wedding], Mr. Isabell sent me the most attractive package including the details of the wedding beautifully put together and a nice note thanking me for my help.
In 1999 I was staying with my daughter, Eliza. It was the first Christmas away from Virginia since Paul had died. On Christmas Eve Eliza opened the back door to the porch and said, "Mums, there is a big box out here with your name." We brought it in and opened it. It was filled with dozens of lilies of the valley and violets. The card inside read, "Happy Christmas and much love, Robert Isabell."
When I was in New York he came up for a drink. "Can I be your special friend?" he asked me. He was attractive, charming and full of fun. That was the start of a wonderful relationship. Each day we shared thoughts and happenings. We had endless imagination as life went on. As I grew into my late 90s, we planned what he would do to carry on.
I talked to him in Southampton over the Fourth of July. As a child, I had lived many years in Southampton and sang in the choir of the Dune Church. He always went to visit the church when he was there and said prayers. Very late Saturday night he called on his way back to New York. He was very tired and always needed to get back to his own bed in New York.
We laughed often at the thought of being 50 years apart and still enjoying life's thoughts together.