Cate Blanchett Will Be This Year's Festival de Cannes Jury President
The Oscar-winning actress will be the eleventh woman to serve as president of the jury at the film festival.
---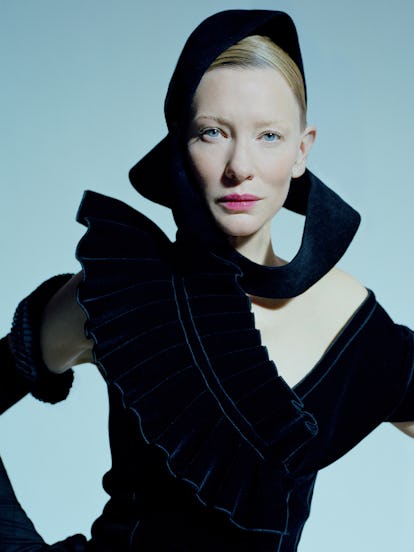 Cate Blanchett's career as an impressive and history-making actress knows no bounds. Amidst all of her Oscars, Golden Globes and numerous other accolades, she will be adding one more title to the list—Jury President of the Festival de Cannes. As the 71st individual to serve as the Film Festival Jury President at Cannes, Blanchett will also be just the eleventh woman to assume the role.
From May 8 to May 19 of this year, actors and filmmakers will flock to Cannes for the annual festival. Being named as president this year is a monumental honor for Blanchett, who will join the ranks of impressive film figures who choose the film to award with the prestigious Palme d'Or, such as Pedro Almodóvar (who served as president last year and awarded the Palme d'Or to The Square), David Lynch, Steven Spielberg and Robert DeNiro. Other female film icons who have served as jury president include Olivia de Havilland in 1965 (the first woman to ever receive the honor), immediately followed by Sophia Loren in 1966, Michele Morgan, Ingrid Bergman, Jeanne Moreau, Francoise Sagan, Isabelle Adjani, Liv Ullmann, Isabelle Huppert and Jane Campion. The only individual to receive the honor of being president of the jury more than once is the late Jeanne Moreau, who ran the jury twice—once in 1975 and again two decades later in 1995.
Blanchett has won two Oscars—her most recent for Best Actress in 2014 for Blue Jasmine and her first for Best Supporting Actress in 2004 for portraying Katharine Hepburn in The Aviator, which of course meant Blanchett made history as the first actress to have been awarded an Academy Award for portraying another actress. She has also been nominated for an Academy Award five other times, won three Golden Globes, earned six additional nominations, and starred in Palme d'Or frontrunners such as Todd Haynes' Carol. Serving as president of the jury at Cannes marks a major appreciation of Blanchett's oeuvre as an artist, and respect for her taste in working with auteurs for both independent films and major blockbusters, and hopefully at this year's Festival de Cannes, we'll get a glimpse of her turn as Sandra Bullock's partner in crime in Oceans' 8 before its highly anticipated summer premiere.
Related: Ocean's 8's First Full Length Trailer Is Here