Chris Pine Puts 'Spitgate' To Rest
"If I feel badly, it's because the vitriol that the movie got was absolutely out of proportion with what was onscreen."
---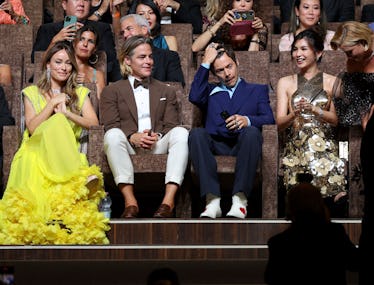 Vittorio Zunino Celotto/Getty Images Entertainment/Getty Images
The fall of 2022 was a dizzying time for absurd gossip about the dramatic thriller Don't Worry Darling. Directed by Olivia Wilde, the film seemed to be a magnet for controversy that ranged from petty to shocking, and things really reached their peak at the Venice Film Festival premiere that September.
In a clip that immediately went viral, the film's star Harry Styles sits down next to his colleague Chris Pine in the audience and makes a gesture that some interpreted as Styles spitting in Pine's lap. Breaking his silence on "Spitgate" for a video interview with Esquire magazine, Pine denies any bodily fluids were flying.
"This is a ridiculous story — a complete fabrication and the result of an odd online illusion that is clearly deceiving and allows for foolish speculation," he insisted.
"Harry did not spit on me," Pine said. "Harry is a very kind guy. I was on the plane and we're flying back from Venice having a great time on the plane and my publicist wakes me up and says, 'We have to craft a statement on what happened in Venice.' She showed me the thing and it did look, indeed, like Harry spit on me. He didn't spit on me."
"I think Harry leaned down and said, 'It's just words isn't it?'" Pine continued. "We had this little joke. We were all jet lagged and trying to answer questions and sometimes when you're doing these press things your brain goes befuddled and you start speaking gibberish, so we had a joke: 'It's just words.'"
While the optical illusion Pine refers to is pretty convincing, people would probably have not interpreted the moment that way if they weren't already worked up into a fever pitch over rumors of drama on set. The film's female lead, Florence Pugh, allegedly had a lot of conflict with Wilde and she showed up to the premiere late from the set of Dune 2. In another viral moment, Pugh rolled up free and breezy with an Aperol spritz in one hand, leaving her colleagues to deal with press.
Ever the diplomat, Pine said of the rumors, "If there was drama, there was drama. I absolutely didn't know about it, nor really would I have cared."
He added, "If I feel badly, it's because the vitriol that the movie got was absolutely out of proportion with what was onscreen. Venice was normal things getting swept up in a narrative that people wanted to make, compounded by the metastasizing that can happen in the Twitter-sphere. It was ridiculous."
Glad that's all cleared up.