Cole Sprouse Opens Up About His Relationship and Breakup with Lili Reinhart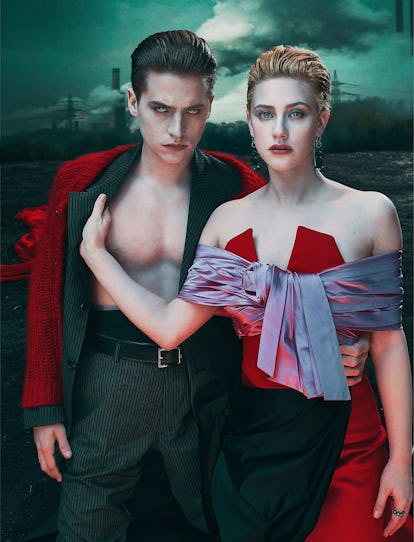 Photograph by Steven Klein for W. Styled by Arianne Phillips.
Three years ago, Cole Sprouse and Lili Reinhart's sudden breakup shocked the internet, yet intrigue died down as the two carried on rather cordially and professionally as co-workers on Riverdale. In fact, we'd almost all forgotten there was any drama in the first place. Well, that was before the male-half of the former CW golden couple decided to sit down for an episode of the podcast Call Her Daddy.
Sprouse and Reinhart met while filming Riverdale, and were on and off between 2017 and 2020 when they confirmed their split once and for all. "It was really hard," Sprouse said of his breakup with Reinhart while sucking on a Virginia Slim indoors. "The work thing got difficult because it was hard to suspend all the way we felt about each other and it didn't afford us the luxury of distance to really overcome that," he continued. The actor said the pair "absolutely" stayed together for longer than they should have. "I think, if I had loved myself a little more, I probably would have left a little earlier, but I just felt like I had to take care of a lot of people around me, which was not good for me," he said. "I probably should have exercised a bit more selfishness in that situation."
At one point in the interview, Sprouse said he and Reinhart did "quite a bit of damage to each other," though he did not elaborate what he meant by that. He also said the relationship ended mutually, but when pressed by Cooper he confessed that he was the one to initiate it. "I left," he said. "But to be honest, when you're in a relationship for that long, and someone leaves, it's not…a surprise."
After Sprouse and Reinhart broke up, they kept it quiet from their fans for a bit, which caused an issue when Sprouse was spotted out with another woman and the public assumed he was cheating on Reinhart. "We didn't make a big deal when we split," he said, though he has learned his lesson. "I have realized now, in hindsight, I probably should have said something right away. I didn't think the public needed to be afforded the luxury of my own heartbreak…but that gray area, created a lot of rumor and gossip that would end up effecting me and my mental health quite a bit afterwards."
These days, though, Sprouse says he and Reinhart are "good friends" and they "work really well together." Of course, Riverdale will end with the seventh season, which premieres later this month so soon, the two will no longer be coworkers.