Courteney Cox and Laura Dern Get Matching Friendship Tattoos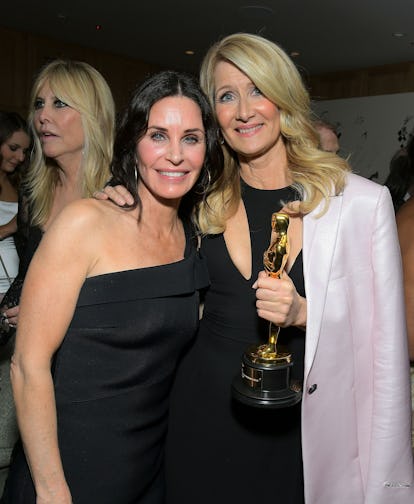 Charley Gallay/Getty Images
Watch out Jennifer Anniston and Reese Witherspoon because while your filming The Morning Show, your BFFs are busy declaring their love for each other in a very permanent way. On Wednesday, Courteney Cox shared that she and Laura Dern, got matching tattoos with each other. Both actress's children even joined in.
Cox revealed the ink on Instagram in a selfie photo of her, Dern, Cox's 18-year-old daughter Coco Arquette, and Dern's two children, Jaya and Ellery Harper (18 and 21, respectively). In the second photo in the post, the fivesome showed off their tattoos, which were designed by artist Scott Campbell and feature paper airplanes and the phrase "go long." Ellery, Jaya, and Courteney all got the tats in their inner lower arm, while Dern went with the inner upper arm. Coco, meanwhile got the paper plane on the back of her right shoulder, but seemed to opt out of including the phrase.
Dern and Cox have actually been friends for quite awhile and the Friends star revealed in the Instagram post that their families have spent the last 16 Christmases together. This year, their celebration included a trip to the tattoo parlor. "Watch out…we might have sleeves by 2025," she joked in the caption of the post.
The two families have spent other holidays together as well. Back in 2019, they got together for the 4th of July, and were joined by Aniston as well. Likely, that means Aniston is OK with her Friends BFF hanging out with another actress. Similarly, Witherspoon also seems to approve of her Big Little Lies buddy getting inked with someone else. The actress commented "Love it!" on Cox's Instagram post. Maybe, they'll even include Aniston and Witherspoon next time they go under the tattoo gun.