Freddie Mercury's Never-Before-Seen Personal Effects Will Soon Be For Sale
A new Sotheby's exhibition and auction features over 1,000 costumes, artworks, and handwritten lyrics from the king of Queen's private collection.
---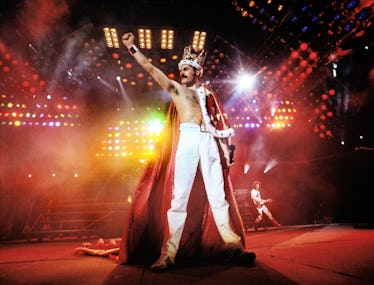 Freddie Mercury, Queen, at Wembley Stadium in 1986. Photograph by Denis O'Regan
In 1986, Freddie Mercury—the legendary frontman of rock band Queen who became a musical and cultural icon long before his untimely passing in 1991—took the stage at Wembley Stadium wearing a jewel-studded, red velvet crown and a dramatic, matching cape that trailed yards behind him.
Those historic garments, now firmly lodged in pop culture's historical canon, will soon be on sale through Sotheby's in a new exhibition-slash-auction called "Freddie Mercury: A World of His Own." The 1500-lot auction puts the global superstar's personal effects—from his collection of artworks by the likes of Picasso and Matisse to costumes he wore throughout his most famed performances—on display for the very first time. This never-before-seen private collection was discovered at his London home, the Garden Lodge in Kensington, which has been maintained for the past 30 years exactly as it was when Mercury lived there. Across six sales and a monthlong exhibition that will fully take over Sotheby's London galleries, Mercury's trunks from his various world tours, his Martin D35 acoustic guitar, and even handwritten lyrics for "We Are the Champions" and "Killer Queen" will be on offer.
But the collection also reveals a more intimate portrait of who Freddie Mercury was, apart from his stardom: an avid collector of Japanese costumes and art (some of which he purchased at auctions), a visual artist who filled his sketchbooks with pages upon pages of drawings, and a loving friend (a costume design gifted to him by Elton John, a close comrade of his, is one of the lots in the auction). A personalized vest bears the images of his beloved pet cats. And, of course, there are items that exemplify both his status as a musical icon and his personal identity—like the Tiffany & Co. silver mustache comb he used to groom himself.
Left: The English actress Jane Seymour with Freddie Mercury in 1985. Right: The jacket, which Mercury wore for his 39th birthday in Munich that year, is one of the Sotheby's lots.
This is the longest and largest exhibition ever staged by Sotheby's in London. It'll also pop up in New York City this summer, ahead of the sale series, giving those Stateside a chance to experience the star's collection in person. The allure of Mercury's persona and existence may never be fully captured, but this is certainly a start. After all, as the legendary artist said himself in his book "A Life, in His Own Words": "I like to be surrounded by splendid things. I want to lead the Victorian life, surrounded by exquisite clutter."