W Hosts Dinner to Celebrate Frieze New York
Art world stars joined Frieze Director Christine Messineo and W Executive Editor Armand Limnander at the intimate event held in partnership with Yann Nury and KHAITE.
---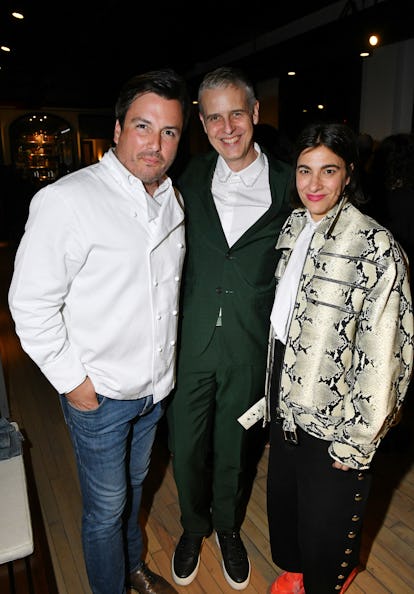 Yann Nury, Armand Limnander and Christine Messineo. Craig Barritt/Getty Images Entertainment/Getty Images
With Frieze and its constellation of satellite fairs sparkling all over New York City this week, it seems like you can't walk a few blocks without running into a clutch of art world stars. First, they were uptown at TEFAF, then downtown at the Independent, then they zipped over to midtown for the main event, taking in the several floors of The Shed that have been packed with breathtaking work from around the globe. On Thursday night, a select group of artists, gallerists, collectors and friends of W gathered in chef Yann Nury's Soho loft space, La Résidence, to celebrate Frieze and all of the surrounding excitement.
Hosted by W executive editor Armand Limander and Nury, along with Christine Messineo, director of Frieze Americas, the event was an intimate, elegant affair held in partnership with KHAITE, the New York-based brand known for its polished ease. Nury's loft, unveiled just a few months ago as the chef's private New York headquarters, was filled with fresh roses arranged by Missi Flowers, flickering candlelight and the quiet flurry of an open kitchen. As guests gathered around a marble island to sample petal pink paloma cocktails made with Maestro Dobel Tequila and settled onto low velvet couches to chat, Nury's team swirled sauces in copper pots and plated arrays of delicate artichoke tarts, silky white asparagus risotto, and tiny hand-rolled ice cream cones dotted with caviar.
The eclectic, creative crowd included gallerists Nicola Vassell, Olivier Babin, and artist-gallerist Tara Downs, who attended with the painter Rute Merk and creative consultant Matt Creed. Food world star Padma Lakshmi breezed in and paused to check out the action in the kitchen before catching up with director Chiara Clemente. The artist Tom Burr, fresh off of a solo show at Bortolami gallery, chatted with architect and designer Adam Charlap Hyman. Succession's Annabelle Dexter-Jones arrived with film producer Cecile Winckler, and the performance artist Liz Magic Laser talked shop with Artnet's Andrew Goldstein. The fabulously fashionable art collector Valeria Napoleone attended with her husband, Gregorio Napoleone, and her sister, the accessories designer Stefania Pramma. Fashion editors and W contributors Phyllis Posnik and Grace Coddington lingered in a corner with the photographer Craig McDean.
As the evening wound down, airy, olive oil-spiked madeleines appeared fresh from the oven, a sweet way to cap off the night.