Glastonbury Festival Style Has Come a Long Way Since 1971
A new book offers a never-before-seen look at the music festival's inaugural year.
---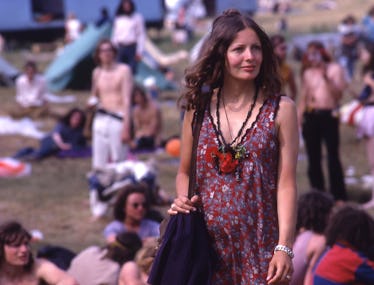 Festivalgoer Dee Harkin attends the first Glastonbury festival in 1971. Photograph by Paul Misso, courtesy of IDEA
Today, the Glastonbury festival is a multimillion-dollar operation with sponsored events, activations, and pop-ups surrounding top-billing concerts attended by hundreds of thousands of people. But at one time, the annual event held in Somerset, England was a humble, grassy affair where folks could catch their favorite musicians and have a nice picnic with friends. A new book captures this moment in its history, long before the time period between April and August was officially dubbed "festival season."
In the Vale of Avalon, available from the publishing house IDEA on May 10, features unreleased photographs from the very first year of Glastonbury Fayre. Photographed by Paul Misso—a British creative who spent the previous six months working on fashion photography in Milan—during a trip to the inaugural festival with film director Nicolas Roeg and the Oscar-winning actress Julie Christie, the pictures capture a simpler time at the Pyramid Stage. What follows are intimate images of concertgoers running through the fields nude, making art, camping out, and braving the elements. More importantly, though, the book—which IDEA will sell in a limited run of 1,000 copies at Dover Street Market in London—acts as a time capsule, capturing the core of the counter-cultural zeitgeist at its peak. Plus, the project documents the development of the festival over the past 50 years—showing just how much Glastonbury, which will take place this year from June 21-25, has grown into a global phenomenon. Below, a look at the book's imagery, with additional commentary from Misso himself.