Gwyneth Paltrow Says She Got Away With So Much Before Cellphone Cameras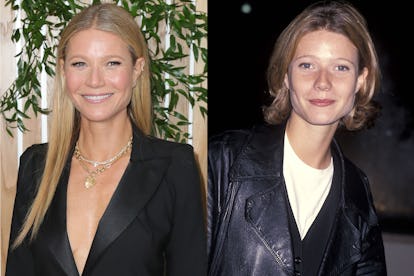 Leon Bennett/Getty Images/Ron Galella, Ltd./Ron Galella Collection via Getty Images
There comes a time in every Gen X's life, when they're asked about growing up in the '90s without social media. It's a question that one cannot escape, and for the most part, the answer is always the same. "Oh, it was the best you could get away with anything." "You could just live your life, no one was taking your photo." We get it, we missed out. On a recent episode of The Late Late Show With James Corden, Gwyneth Paltrow was asked this very same question. In the '90s, Paltrow was living quite a life, playing the titular Emma in the Jane Austen adaption, dating Brad Pitt before he got entangled in drama, winning an Academy Award. So, it's safe to say the actress was nostalgic for the time, and she cut right to the chase, though she did add a little bit of spice to the regular, canned answer.
"It was great," Paltrow said without skipping a beat. "I mean, talk about doing cocaine and not getting caught! Like, you could just be at a bar and having fun, dance on a table...no camera phones." The actress continued, saying there were no paparazzi at the time in New York, so you didn't have to worry about getting photographed during a night out. "You could stumble out of a bar and go home with some rando and no one would know."
Of course, now we need to know how many randos Paltrow went home with during her time in New York in the '90s. These days, though, Paltrow is much more into wearing cozy cashmere while making her husband a paleo-friendly breakfast on a Sunday morning rather than nursing a hangover from an alcohol and drug-fueled night in New York City. Of course that doesn't mean Paltrow's drug experimentation days are over. Back in 2020, Paltrow opened up on her Netflix show, The Goop Lab, about trying MDMA with her husband, Brad Falchuk, in Mexico back when they were dating, calling it "a very, very emotional experience." The actress has also spoken about psychedelics and their future in treating mental health. "There's undeniably some link between being in that state and being connected to some other universal cosmic something," she told the New York Times back in 2019. That being said, at the time Paltrow admitted she'd never done psychedelics. "I'm terrified," she said. Though it's unclear if she's scared of the drugs themselves or maybe, getting caught taking them by one of those pesky camera phones.