The Dance of the Dragons Will Continue in House of the Dragon Season 2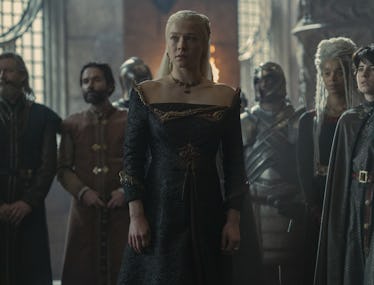 Photograph by Ollie Upton / HBO
Now that the first season of House of the Dragon is officially behind us, fans are forced to consider a world where they won't be transported back to Westeros every Sunday night thanks to HBO. It's bleak, yes, but luckily, the network has already confirmed Dragon season two is a go. Not too surprising, considering the first episode alone brought in the most viewers for an HBO premiere ever. So, it's safe to say Dragon will be in our life for awhile, and if George R.R. Martin gets his way, we'll have four seasons of the show to enjoy. For now, though, let's just focus on season two. Here's everything we know about the sophomore season of House of the Dragon.
When will House of the Dragon season two premiere?
Don't expect to get a new season anytime soon, like, not even in the next year. According to The Hollywood Reporter, season one took ten months to film, and post production took at least nine with all the visual effects that had to be implemented. Spanish newspaper, Hoy, revealed filming in Cáceres (the set for King's Landing) will begin in March 2023. That means, if season two mimics the same timeline as season one, we likely won't return to Westeros until early 2024 at the earliest, a sentiment HBO CEO just confirmed.
"Don't expect it in '23, but I think sometime in '24," he told Vulture. "We're just starting to put the plan together, and just like last time, there are so many unknowns. It's not to be coy or secretive, but you don't want to say it's going to be ready on this date, and then you have to move it."
Where will House of the Dragon season two be set?
The end of season one marked the beginning of a war that will seemingly effect all of Westeros. This, combined with the fact that Jacaerys flew off to The Eyrie and Winterfell at the end of the finale, implies that more of the realm will be explored in the second season, and showrunner Ryan Condal confirmed that is the plan. He told Variety that while season two will likely remain focused on King's Landing, Dragonstone, and Driftmark, "there are definitely many more new worlds to come, and new worlds that you haven't necessarily seen in the original show, either."
What will House of the Dragon season two be about?
Throughout the season one finale, we see Rhaenyra reluctant to go to war, but before the episode's end, her hand is forced, and it's clear she's ready to fight. From this, we can assume the Dance of the Dragons has officially begun, and season two will continue to explore the conflict between the Greens and Blacks. Condal spoke a little bit about the prep for season two at a Comic Con panel back in July, saying it will introduce some new dragons into the story, as well as a bit more gore. Apparently, they have a "severed head budget" specifically set for the season.
Who will be in House of the Dragon season two?
Now that season one is officially over, we know who will likely be returning for season two. Expect to see the main cast back for another round, including Emma D'Arcy, Olivia Cooke, Matt Smith, Fabien Frankel, Steve Toussaint, and Eve Best. Aside from Elliot Grihault, who played the now-deceased Lucerys, we can likely also expect the return of the younger generation in the form of Tom Glynn-Carney, Ewan Mitchell, Harry Collett, Bethany Antonia, and Phoebe Campbell, who play Aegon, Aemond, Jacaerys, Baela, and Rhaena.
Unfortunately, we likely won't see the return of Emily Carey or Milly Alcock, who played young Alicent and Rhaenyra in the first six episodes of season one. Condal told Variety that, as of now, Carey and Alcock "are not a part of the story" in season two. "That's not a thing that we're doing right now," he said. That being said, there still could be a small chance they make an appearance, probably in the form of a flashback. "There are things that we haven't fully sorted out," Condal said. "I'm not closing the door on anything."
This article was originally published on