One Designer's Guide to Making a Shakerato (The Italian Version of Fluffy Coffee)
Yali designer Pia Zanardi shares the recipe for the morning drink she misses the most from Sant Ambroeus, her local café.
---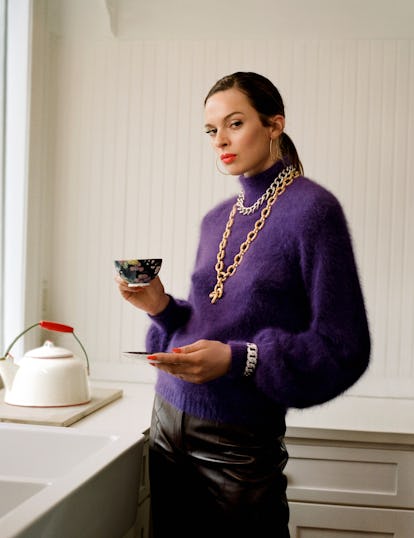 Photograph by Dario Catellani.
For W's new series, "One Fun Thing," we're inviting creative people around the world to share an easy, relaxing activity that has brightened up their days spent at home, from Manolo Blahnik's daily sketches to Jewel's guided meditations to Marcel Dzama's homemade coloring books. Consider it a grab bag of ideas for how to shake up your own quarantine routine.
Cold brew isn't really a thing in Italy. Instead, they do something called a shakerato, a sweet, frothy blend of espresso, sugar and ice made with a cocktail shaker. (Think of it as a lighter, icier version of "fluffy coffee," the Korean whipped beverage that has become the internet's pandemic drink of choice.) One of the rituals the Italian, New York-based designer Pia Zanardi misses the most from life before quarantine is sitting down at her local café, Sant Ambroeus, for a shakerato and a chat at the bar before heading to her studio for the day. When life goes back to normal, she says, it's the first place she'll go.
Until then, she's been doing her best to recreate the experience in her own kitchen, dressing up for the day in the silk palazzo pajamas she designed for her brand, Yali, just in time for a months-long stint of working from home. Here, she shares the recipe (no whisk or instant coffee required!) and some of the memories the drink evokes for her.
Ingredients:
Two shots of freshly made espresso
5 to 7 ice cubes
1 to 2 tablespoons of cane or coconut sugar (optional)
Instructions:
Fill a martini or wine glass with ice, so the glass is ready and chilled. Add sugar, if using, and espresso to a cocktail shaker and wait for the coffee to cool a little bit, then add ice. Close the shaker and shake it energetically for about 15 seconds. Strain into the chilled, ice-filled glass and drink!
What can you do to make your home feel a little more like a café in the mornings?
I usually put on my morning Spotify playlist, "Caffé AM Mix." I've also been listening to this album called Napoli Segreta, a compilation of rare 70's and 80's Neapolitan disco-funk, non-stop this week and I love it.
What memories does the shakerato evoke for you?
It reminds me of summers spent at my house in the countryside, right next to the Po river in Northern Italy, having homemade shakeratos and playing the Italian card game burraco in the afternoons. It also reminds me of my favorite café-bar in Rome, called Sant Eustachio—they have a special automatic shaker machine and they make their own delicious coffee beans. During summer, they must be making close to 400 shakeratos a day.
What other daily rituals have you started doing while in quarantine?
I read and write more, I cook while following recipes, which I have never done before, and I set a "creative thinking hour" phone call each day with a different friend; we call each other and bounce ideas and dreams just for fun, just to keep ourselves a little entertained and sane. One day the conversation might be about starting a restaurant on a Sicilian island, another might be to build a creative collective festival in Dali, China.
What other recipes are you working on mastering?
The River Café recipe for salsa verde, the chocolate cake from Nonna Carolina in Parma, and the perfect Negroni.