Hunter Schafer Envisioned a New Kind of Euphoria for an A24 Book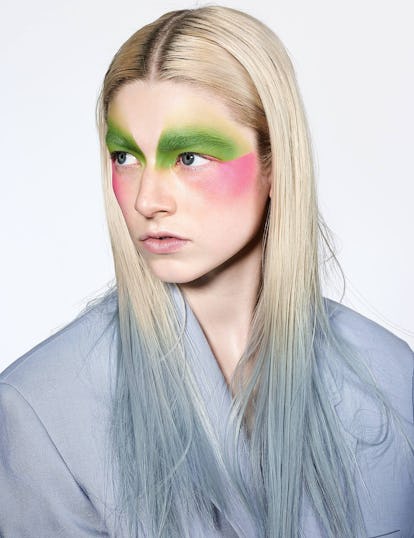 Photograph by Richard Burbridge; Makeup by James Kaliardos; Hair by Ward.
In March 2020, right at the beginning of the Covid-19 pandemic, Hunter Schafer spent around two months inside her Los Angeles apartment "painting, drawing, writing, storyboarding—anything that I could get my hands on," Schafer told W in September of last year, when we interviewed her for our TV Portfolio. She explained the details of her artistic process during this, as she described it, "big creative outburst phase": how she played the anime Neon Genesis Evangelion in the background on her projector with the sound off while she did oil paintings, the way she spread a large roll of paper on the floor and doodled with a thick black marker for three nights.
Schafer, who grew up reading comic books (her father was "an Aquaman fanatic," she said,) has always sought out visual art as a creative outlet. During lockdown, putting artwork on a piece of paper was a coping mechanism; what she created was not necessarily meant for public consumption. But now, drawings from Schafer's personal sketchbook take center stage in a set of eight books titled The Euphoria Books: S1 Boxed Set, released by A24 today.
This collection of books, which contains one for each episode of season one, features behind-the-scenes photographs (some of them shot by Jacob Elordi during the show's production,) Q&As with cast members like Zendaya, Alexa Demie, and Barbie Ferreira, plus crew members like makeup artist Doniella Davy. For her part, Schafer has included a series of sketches that center the HBO show in which she plays Jules, the charming best friend and love interest of Zendaya, whose character is named Rue. Although Zendaya-as-Rue is certainly central to the show's appeal, Schafer's Jules emerged as an equally intriguing person in creator Sam Levinson's universe: a transgender teenage girl searching for friendship and recognition while engaging in a series of trysts with older men.
The drawings, which live under a section titled "I Feel Something," contain images referencing scenes from the show, along with some font treatments imagined by Schafer herself.
The artwork is certainly a far cry from the doodles she made during the beginning of the pandemic. All the same, the images included in A24's Euphoria provides a window into the visual mind of a one-of-a-kind actor. "I don't really know what to call [my art]," Schafer told W back in September. "It's kind of become its own thing."