We, as a Society, Need to Get Ice Spice and PinkPantheress to Number 1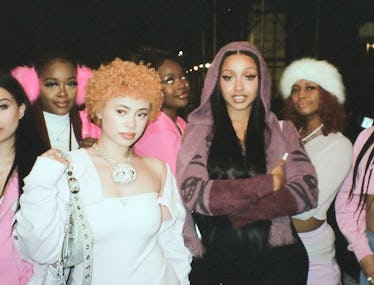 Via Parlaphone
This June will mark the 25th anniversary of Brandy and Monica's "The Boy is Mine" hitting the top spot on the Billboard Hot 100—a seminal moment for many Millennials. It's time for Gen Z (and Gen Alpha, some of whom are now in their middle school years) to get their version. We're talking about PinkPantheress and Ice Spice's viral smash "Boy's a liar pt 2," which has been climbing the ranks these past few weeks. The track now officially sits at a tantalizing fourth spot in this week's just-released chart. Whereas Brandy and Monica were in competition over a philandering man, Pink and Ice commiserate with each other over their separate, trifling significant others. And, like that '90s duo, they stand a chance of becoming era-defining icons.
Separately, Pink and Ice had been impressively building buzz for a while now, among those in the know—though a true mainstream breakout moment had so far eluded each.
PinkPantheress is a 21-year-old Brit who began making music on garage band as a teenager, and started getting noticed on TikTok in 2020. While TikTok teens' music tastes may be mixed, don't let that put you off. The music press was quick to champion her hypnotic mix of melancholy bedroom pop and Britain's underground dance music legacy. She won the BBC's previous "Sound Of..." poll in 2022, putting her in the company of past winners like Adele, Haim, and 50 Cent. She was also at least part of the reason why last year's Marc Jacobs Heaven party became one of the most infamously crashed Fashion Week fêtes in recent memory (she performed alongside Charli XCX and Doja Cat).
Around the time Pink was playing that Marc Jacobs party last fall, it seemed everyone in New York started listening to Ice Spice, a 23-year-old from The Bronx who owes her popularity to TikTok, Twitter, SoundCloud, and, yes, Drake, who played her cut "Munch (Feelin' U)" on his SiriusXM channel. She effortlessly rattles off lines that get stuck in the folds of your brain—and online, she's a reigning meme queen who regularly gets compared to everyone from Princess Diana to Family Guy's Lois Griffin (out of love, of course).
Both young artists seemed destined to pop into the mainstream. Less-imaginative record label A&Rs might have tried to force it by manufacturing collaborations with more established artists (even Billie Eilish needed Justin Bieber's help to get her first number one). But instead, the story goes, the transatlantic duo linked up over social media to remix Pink's original cut "Boy's a liar."
The result manages to showcase what makes both artists so exciting in a mere 2 minutes and 11 seconds. It feels fresh, unforced, and maybe the easiest song to root for since that time Cardi B dethroned Taylor Swift at the chart summit with "Bodak Yellow." So you might as well join in, stream it 20 times a day, and help it get there. Besides, we don't think either artist is going anywhere, anytime soon. Get into it now.