Now That Cardi B Topped Taylor Swift on the Billboard Hot 100, We Get a Cardi B Version of "Look What You Made Me Do"
The logical culmination of a weeks-long campaign to get Cardi to the top of the charts.
---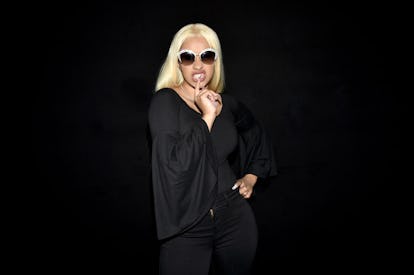 John Shearer/Getty Images
Just more than a month ago, Cardi B's "Bodak Yellow" first entered the top 10 of the Billboard Hot 100 charts, edging into eighth position behind "Despacito" (the undisputed song of the summer) by Daddy Yankee and Luis Fonsi (and an assist by Justin Bieber), some other songs you have probably already forgotten, "Closer" by the Chainsmokers and Halsey, and "Shape of You" by Ed Sheeran. Since then, Taylor Swift released "Look What You Made Me Do" and did everything in her power to keep Cardi B out of the top spot, despite "Bodak Yellow"'s inexorable rise (including discounting the price of her single to $0.69)—until finally, on this day, September 25, 2017, "Bodak Yellow" was announced as the top song on the Billboard Hot 100.
It's a milestone occasion: "Bodak Yellow" is the first song by a woman rapper to reach the top spot without a feature by another artist since Lauryn Hill did so with "Doo Wop (That Thing)" in 1998. It's also the first time a Latina rapper has topped the chart. Cardi B managed to do so, in part, on the strength of a Twitter campaign that swept across the internet in the past week, with friends and supporters outspoken in their endorsement of the track (and encouraging everyone around them to buy, stream, and do whatever else they could to get Cardi to no. 1). And since "Bodak Yellow" landed in the no. 1 position, there's been an outpouring of congratulations for the New York rapper; Nicki Minaj tweeted her approval, writing, "Congratulations to a fellow NEW YAWKA on a RECORD BREAKING achievement. Bardi, this is the only thing that matters!!! Enjoy it"; Cardi's is-he-or-isn't-he-boyfriend Offset retweeted several links about her new record.
So it was that same contingent of friends and family Cardi thanked during a party Monday celebrating her achievement: "All my friends are here," she said, according to a video posted by Billboard. (She's clad in a green silk jumpsuit, sunglasses planted firmly on her face.) "You know that quote: 'You know who your real friends is when you open a business'? Well, I experienced that this week, because all my friends, everybody I grew up with, my gang, everybody posted so I could go number one." Then, she starts to dance, riffing appreciatively: "Look what you made me do," she sings, "Look what you made me do."
Cardi B may have knocked Taylor Swift out of the top position (and Swift, in fact, fell to no. 3 thanks to a strong debut by Post Malone in the second spot), but at least we got a Cardi B version of "Look What You Made Me Do" in the bargain—which is really the best of all possible outcomes.
Related: Taylor Swift's "Look What You Made Me Do" Video: Homage or Ripoff?
Tracee Ellis Ross had the 18th birthday to end all birthdays: