Jewelry Designer Jean Prounis Is Baking and Listening to Virgil Abloh's Spotify Playlists
Inspired by her grandmother, the jeweler known for her elegant 22-karat gold pieces is experimenting in the kitchen with homemade rosewater.
---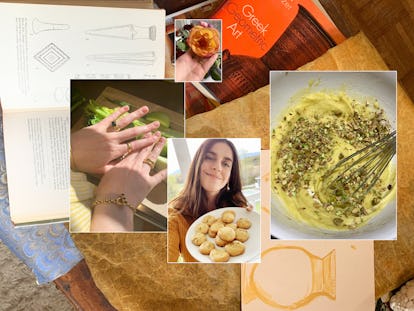 For W's new series, "One Fun Thing," we're inviting creative people around the world to share an easy, relaxing activity that has brightened up their days spent at home, from Manolo Blahnik's daily sketches to Jewel's guided meditations to Simone Rocha's kitchen gardening habit. Consider it a grab bag of ideas for how to shake up your own quarantine routine.
The jewelry designer Jean Prounis is known for her simple, elegant 22-karat gold pieces that reference Greco-Roman design motifs and the Art Deco flair of Versailles, the New York nightclub run by her great-grandfather in the 1940s. Now that she's social distancing in upstate New York with her boyfriend and his family, she's been looking to another relative for inspiration: her grandmother, with whom she shared a love of baking. She's started designing pieces for her brand, Prounis Jewelry, on a makeshift jewelry bench she set up in the guest bedroom. In between those sessions, and virtual consultations with clients, she's developed original recipes, referencing favorite Instagram accounts and restaurant cookbooks for inspiration. Throughout March and April, 10% of every sale from Prounis Jewelry went to a charity of the buyer's choice—now, she's working on a new selection of specific pieces that will offer a percentage to support those in need. Here, Jean shares her daily routine, and a recipe she whipped up for a delicious floral shortbread.
What does a typical day look like for you right now?
Every morning, I wake up and make everyone green juice. It's a new ritual of mine. During the Tucson Gem Show in February, I stayed with my friends Salima and Roberto of Desert Vintage and they make an incredible juice every morning—I love the fresh start to the day. After that, I'll touch base with my team to go over new developments, email inquiries, and existing orders. Then I'll take video appointments with clients to chat about custom pieces in the works. Private appointments in our showroom were a daily occurrence, so video appointments have been a great way to continue that personal connection. I try to go for a walk every day on the nearby hiking trails or get in some gardening (or rather re-gardening, the deer have been at my plants). At night it is quite a challenge to all agree on one film. I just watched Sunset Boulevard again, one of my favorites.
When did you first start getting into baking?
Growing up, my grandma would make devil's food cake for my birthday every year. So she got me into it. I usually bake a few times per year, mainly for my boyfriend, Levi: I make him an annual ricotta vanilla bean cheesecake for his birthday, graham cracker crust from scratch and all. Since the quarantine, though, it's been more like every weekend. I just made a pavlova without an electric mixer—now, that's a workout.
How did you originally develop the recipe for pistachio and rosewater shortbread?
The recipe was a result of quarantine cravings. I wanted to make something quick and easy to nourish my sweet tooth, so I decided on shortbread. My dad had a bag of pistachios out and I was enamored by the green and purple palette, I thought they'd make for a nice added crunch. I'm excited to get back to our showroom and make this a staple at each appointment.
Do you have any preferred brands of ingredients for this recipe?
If you have access to organic garden roses, you can easily make rosewater and illuminate your home with the scent at the same time. (I like this recipe.) You can also buy it—I like Al Wadi Natural Rose Water. For butter, there is nothing like Ronnybrook Farms. You eat it by the spoonful and call it a day.
What memories or places does this recipe evoke for you?
Afternoon tea. One of my last social gatherings was with friends Emily Bode, Lauren Rodriguez, and Carly Burnell for afternoon tea at The Carlyle.
Any cookbooks or blogs you've been referring to a lot lately?
I love Daphne Javitch's Instagram account @doingwell on nutrition and mindful eating/living. Another one I frequent is @justonecookbook for Japanese recipes. I also love the cookbook from Bestia, an Italian restaurant in Downtown Los Angeles—there are lovely baking recipes in it.
What kind of music have you been listening to?
I've been listening to our "at home" playlist on Spotify a lot; we're releasing a new one each month. It's been quite fun to make them, reminds me of when we used to burn CDs for friends or the car. I'm also a big fan of Virgil Abloh's "Watercolor Jazz Hours" playlist, that's another repeater.
Any advice for people just getting into baking for the first time?
Experiment with herbs. I love playing with rosemary in my desserts, it adds a lovely aromatic flavor. Also, try adding some lemon zest to anything.
Are there any cuisines you're particularly inspired by?
Japanese food; My next shortbread escapade will be black sesame, and I might try making mochi while I'm at it.
Jean Prounis's Pistachio Rosewater Shortbread
Ingredients:
1 stick of butter, softened
1⁄3 cup of sugar
1 large egg
1 – 2 teaspoons of rosewater, depending on how rosy you're feeling
1⁄2 scraped vanilla bean
Pinch of sea salt
Pinch of lemon zest
1⁄2 cup of unsalted pistachios, chopped
1 cup of flour
Instructions:
In a mixing bowl, add butter and sugar and mix until smooth. Then whisk in the egg, sea salt, rosewater, lemon zest, and vanilla bean. Stir in the chopped pistachios. Lastly, stir in the cup of flour until there are no dry flour spots left.
Roll the dough into a log about 2-3 inches thick and wrap the log in plastic wrap to chill in the fridge for about 15-30 minutes, when you take it out, give it another roll. Then unwrap the log and roll it in a handful of granulated sugar to line the edges of your soon to be shortbread.
Preheat your oven to 350°F and while it heats up, line a baking sheet with parchment paper. Slice log into discs, about a half an inch thick or less. Line the cookies on the parchment paper and bake for about 10-15 minutes. A lovely treat for your next afternoon tea!
Related: One Designer's Guide to Making a Shakerato (The Italian Version of Fluffy Coffee)