How Jennifer Lopez and Ben Affleck Celebrated Their First Valentine's Day as a Married Couple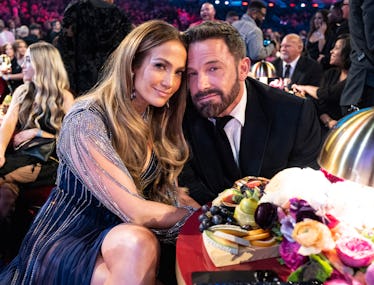 John Shearer/Getty Images for The Recording Academy
Despite what a clip from the Grammys may have you think, Jennifer Lopez and Ben Affleck are doing just fine. In fact, the newlyweds just celebrated their first Valentine's Day as a married couple, and they commemorated the occasion with a pretty permanent symbol of their love for each other.
On Tuesday, Lopez took to Instagram to show off her newest tattoo. The ink sits on her ribcage and features an infinity sign containing her and Ben's names, as well as an arrow going through it. "Commitment," Lopez captioned the post, wishing her fans a Happy Valentine's Day, and ending the note with the hashtag, "#CommitmentIsSexy."
But Lopez wasn't the only one to get a new tattoo. Affleck also made his love permanent. Lopez showed off her husband's latest ink on her Instagram as well—two overlapping arrows featuring the letters "J" and "B." The remainder of the post was dedicated to photos of the pair over the years, including pics from when they attended the Oscars together in 2003.
In the evening, the couple headed to Giorgio Baldi in Santa Monica. For the occasion, Affleck dressed up in a light blue button down, navy blue dress pants, and a matching vest, topping the look with a long coat in a darker blue shade, and blue suede shoes. Lopez, meanwhile, looked very festive in a long-sleeve, chiffon dress featuring varying colors of light pink and white. A Dolce & Gabbana belt, gold platform sandals, and red and gold clutch featuring a geometric heart completed the Valentine's Day-worthy ensemble.
The outing comes following Affleck and Lopez's appearance at the Grammys earlier this month, where it seemed like they were fighting when the camera cut to them at one point during the broadcast. Affleck went viral during the show for her less-than-enthused expressions, and since then, there have been conflicting reports about what the couple thinks about the public's reaction to Affleck's faces. According to a seat filler at the event, Lopez actually saw that Ben's reactions were getting meme'd mid-show, and was amused by it. "J.Lo showed Ben Affleck the phone and was like, 'Oh my god, honey, look at this meme circulating about you,' and he was like, 'Oh god, this again.'" Us Weekly, too, claims they found humor in the moment. "His 'resting' face was all so funny to them," a source told the site. According to Page Six, however, Lopez is "over" the conversation surrounding Affleck's facial expressions. That seems unlikely, however, as the singer joked about the moment after the fact, sharing promo for Affleck's new movie, Air, with the caption, "My husband's happy face" over a photo of the actor grimacing. It seems like, most likely, Affleck and Lopez are in on the joke. As for is he will be escorting her to an event any time soon, that remains to be seen.