Jessica Chastain, After Seeing Every Film in Competition at Cannes, Thought Their Depiction of Women Was "Quite Disturbing"
After seeing the 20 films in competition at the festival as a member of the Cannes jury, the actress felt dismayed by the representation of women she saw onscreen, as she spoke out about during the festival's closing ceremony.
---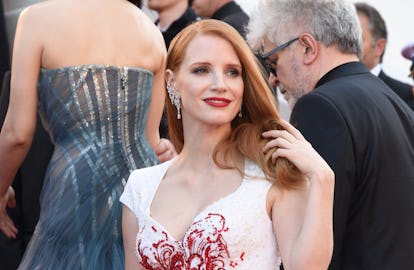 Foc Kan/Getty Images
As a member of the the Cannes Film Festival jury, Jessica Chastain just watched 20 films in 10 days. Which led the actress to conclude, at the festival's closing ceremony this past weekend, "The one thing I really took away from this experience is how the world views women, from the female characters that I saw represented, and it was quite disturbing to me, to be honest."
Although the jury, which was led by Pedro Almodóvar, made Sofia Coppola the second women ever in Cannes's 70-year history to win Best Director award for The Beguiled—a film with an unapologetically objectifying female gaze—the experience did not leave Chastain feeling more empowered.
"There are some exceptions, I will say, but for the most part I was surprised with the representation of female characters on-screen in these films," Chastain continued during the jury panel, to Almodóvar's audible agreement. "And I do hope that when we include more female storytellers, we will have more of the women that I recognize in our day-to-day life—ones that are proactive, [that] have their own agency, [that] don't just react to the men around them. They have their own point of view."
Chastain may have been disappointed by films like Jacques Doillon's Rodin, a biopic of August Rodin that depicts the sculptor as, according to the New York Times, "a male genius who uses and abuses women, some with very contemporary-looking bikini waxing"—a set-up that also "makes a fitting film-industry allegory."
And while Chastain spoke out by the time many of the festivalgoers had already left, her call for more authentic female characters and storytellers has resonated: Since the director Ava Duvernay posted a clip of her speech, it's been favorited over 50,000 times on Twitter.
Jessica Chastain's Style Evolution As the Ultimate Red Carpet Chameleon
Humble beginnings: Chastain is the ultimate early aughts girl in tattered boot-cut jeans and stripped pastel tee.

Getty Images
Attending a fashion week party in LA, Chastain looked cool and casual in a halter-neck black dress.

Getty Images
Once again, Chastain keeps it simple at classic at the opening of Othello at B-Bar in NYC wearing a little black dress.

Getty Images
Chastain at the Dior Haute Couture Spring 2009 show, this time in a ruffled strapless black gown.

Getty Images
The actress arrived at the InStyle magazine Summer Soiree party, beginning to experiment with color in a printed dress.

Getty Images
At the Somewhere premiere in Los Angeles, Chastain's sartorial verve appears in this adventurous floral frock.

Getty Images
Arriving at the GQ 'Men of the Year' party, Chastain chose a flirty red polka-dot cocktail dress and smoky eye makeup.

Getty Images
Shown here in a structured, ivory frock for the Decades Denim launch party. When in doubt: belt it.

Getty Images
In a flamingo-feathered pink cocktail dress for a Golden Globes party, with an emphasis on the statement pump.

Getty Images
At a W Magazine party for the Golden Globes at a light blue dress and black strappy heel.

Getty Images
For the I Am Number Four premiere in Los Angeles in a gathered, gold dress and matching heel.

Getty Images
Jessica Chastain in Zac Posen at the Tree of Life premiere at the 64th annual Cannes Film Festival in Cannes, France.

Getty Images
A lady-like figure in a shocking pink frock and black pump for a Pre-Oscar party.

Getty Images
At a Vanity Fair launch party in a dramatic Alexander McQueen peplum top and matching skirt.

Getty Images
A gilded McQueen gown for the 84th Academy Awards, as a loose up-do completes the look.

Getty Images
Arriving at the Calvin Klein Fall 2013 show in a chic coat and dress combo.

Getty Images
A vision in glittering Givenchy Haute Couture at the premiere of All is Lost.

Getty Images
Arriving at the 70th Annual Golden Globes in gorgeous celadon gown with plunging neckline.

Getty Images
Chastain wore Armani Privé to the 85th annual Academy Awards in February 2013.

Getty Images
The pockets on Chastain's black velvet Alexander McQueen dress and the hue of her multi-colored pumps were just fun enough for a daytime photo call.

Getty Images
Statuesque beauty in a custom Prada gown for the Interstellar premiere red carpet.

Getty Images
Recalling Félix Vallotton's 1924 painting Le Retour de la Mer in a beguiling Atelier Versace gown.

Getty Images
Chastain poses on the red carpet for the European premiere of the film Interstellar in London wearing a dusty rose gown by Saint Laurent.

Getty Images
Prim and pretty in an embellished Oscar de la Renta dress and gilded heel at the 40th Deauville American Film Festival.

Getty Images
Chastain arrives at 'China: Through The Looking Glass' in golden Givenchy Couture gown for ultimate movie star glamour.

Getty Images
In an Oscar de la Renta printed dress for the Jameson Empire Awards in London.

Getty Images
Jessica Chastain in Givenchy at the Toronto International Film Festival premiere of The Martian in Toronto, Canada, September 2015.

Getty Images
The lady is a vamp! In a dramatic, plunging gown by Versace at a Golden Globes party.

Getty Images
Jessica Chastain in Elie Saab at the opening of the Metropolitan Opera's 2015-2016 season in New York, New York, September 2015.

Getty Images
Jessica Chastain in Givenchy at the 87th annual Academy Awards in Hollywood, California, February 2015.

Getty Images
Chastain has a history of speaking out on sexism in Hollywood, but she's not unrealistic about the impact of her words. "I just don't know why it's not changing," she told American Way in March. "I'm doing my part to make the change, so why isn't everyone else?"
She recently attempted to take matters into her own hands by launching her production company, Freckle Films, last year, but Chastain is still, like most actresses, dependent on the productions of male producers and directors, like the one who once told her she talked too much about "all this 'women stuff.'" And sometimes, she's actually the only woman on set—an experience she told Porter can make her "feel like a sexual object."
That's not to say years of discrimination haven't taught Chastain a few ways to beat the system. It may have taken two Academy Award nominations to get her comfortable to do it, but Chastain now has one simple trick for dealing with unequal pay: Instead of finding out later she's being paid millions less than her male costars, now she just asks how much they're making up front.
Bella Hadid, Jessica Chastain, and Elle Fanning Lead the Charge at the 2017 Cannes Film Festival
Bella Hadid in Alexandre Vauthier and Bulgari at the premiere of Ismael's Ghosts opening the Cannes Film Festival in Cannes, France, May 2017.

George Pimentel/Getty Images
Jessica Chastain in Alexander McQueen at the premiere of Ismael's Ghosts opening the Cannes Film Festival in Cannes, France, May 2017.

George Pimentel/Getty Images
Marion Cotillard at the premiere of Ismael's Ghosts opening the Cannes Film Festival in Cannes, France, May 2017.

Anthony Harvey/Getty Images
Robin Wright in Saint Laurent by Anthony Vaccarello at the premiere of Ismael's Ghosts opening the Cannes Film Festival in Cannes, France, May 2017.

Anthony Harvey/Getty Images
Julianne Moore in Givenchy couture at the premiere of Ismael's Ghosts opening the Cannes Film Festival in Cannes, France, May 2017.

George Pimentel/Getty Images
Lily-Rose Depp in Chanel at the premiere of Ismael's Ghosts opening the Cannes Film Festival in Cannes, France, May 2017.

George Pimentel/Getty Images
Uma Thurman in Atelier Versace and Bulgari at the premiere of Ismael's Ghosts opening the Cannes Film Festival in Cannes, France, May 2017.

Ki Price/Getty Images
Marion Cotillard in Y/Project at the photocall for Ismael's Ghost at the Cannes Film Festival in Cannes, France, May 2017.

Anthony Harvey/Getty Images
Elle Fanning in custom Vivienne Westwood at the premiere of Ismael's Ghosts opening the Cannes Film Festival in Cannes, France, May 2017.

George Pimentel/Getty Images
Aymeline Valade in Pallas at the premiere of Ismael's Ghosts opening the Cannes Film Festival in Cannes, France, May 2017.

ALBERTO PIZZOLI/Getty Images
Susan Sarandon in Alberta Ferretti at the premiere of Ismael's Ghosts opening the Cannes Film Festival in Cannes, France, May 2017.

Gisela Schober/Getty Images
Naomie Harris in Gucci at the premiere of Ismael's Ghosts opening the Cannes Film Festival in Cannes, France, May 2017.

George Pimentel/Getty Images
Jessica Chastain in Roksanda at the jury photocall at the Cannes Film Festival in Cannes, France, May 2017.

Anthony Harvey/Getty Images
Fan Bingbing in Elie Saab couture at the premiere of Ismael's Ghosts opening the Cannes Film Festival in Cannes, France, May 2017.

Pascal Le Segretain/Getty Images
Director Maren Ade at the premiere of Ismael's Ghosts opening the Cannes Film Festival in Cannes, France, May 2017.

Pascal Le Segretain/Getty Images
Charlotte Gainsbourg, center, in Saint Laurent at the premiere of Ismael's Ghosts opening the Cannes Film Festival in Cannes, France, May 2017.

Andreas Rentz/Getty Images
Hailey Baldwin in custom Twinset at the premiere of Ismael's Ghosts opening the Cannes Film Festival in Cannes, France, May 2017.

Venturelli/Getty Images
Daria Strokous in Dior at the premiere of Ismael's Ghosts opening the Cannes Film Festival in Cannes, France, May 2017.

Gisela Schober/Getty Images
Emily Ratajkowski in custom Twinset and Bulgari at the premiere of Ismael's Ghosts opening the Cannes Film Festival in Cannes, France, May 2017.

Ki Price/Getty Images
Sara Sampaio in Zuhair Murad couture at the premiere of Ismael's Ghosts opening the Cannes Film Festival in Cannes, France, May 2017.

Ki Price/Getty Images
Eva Herzigova in custom Roberto Cavalli at the premiere of Ismael's Ghosts opening the Cannes Film Festival in Cannes, France, May 2017.

Epsilon/Getty Images
Uma Thurman in Giuseppe Zanotti ready-to-wear and Tod's at the premiere of Loveless at the Cannes Film Festival in Cannes, France, May 2017.

Venturelli/Getty Images
Julianne Moore in Chanel couture at the premiere of Wonderstruck at the Cannes Film Festival in Cannes, France, May 2017.

Antonio de Moraes Barros Filho/Getty Images
Amber Valletta in Mulberry at the premiere of Wonderstruck at the Cannes Film Festival in Cannes, France, May 2017.

Pascal Le Segretain/Getty Images
Elle Fanning in Temperley London at the Cannes Film Festival in Cannes, France, May 2017.

Jacopo Raule/Getty Images
Adriana Lima in Naeem Khan bridal at the premiere of Loveless at the Cannes Film Festival in Cannes, France, May 2017.

George Pimentel/Getty Images
Emily Ratajkowski in Brock Collection at the Cannes Film Festival in Cannes, France, May 2017.

Jacopo Raule/Getty Images
Michelle Williams in Louis Vuitton at the premiere of Wonderstruck at the Cannes Film Festival in Cannes, France, May 2017.

Epsilon/Getty Images
Thylane Blondeau in Michael Kors Collection at the Cannes Film Festival in Cannes, France, May 2017.

Marc Piasecki/Getty Images
Sara Sampaio at the Cannes Film Festival in Cannes, France, May 2017.

Marc Piasecki/Getty Images
Jessica Chastain Wants to Love Elvis Tender: