Kaia Gerber, Kate Hudson, and Elisabeth Moss Are Teaming Up On a New Film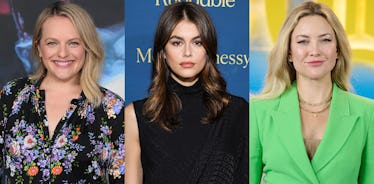 Steve Granitz/FilmMagic/Matt Winkelmeyer/Getty Images/Carlos Alvarez/Getty Images
When it comes to acting, Kaia Gerber is just getting started. The model, who has been dipping her toe into the craft over the past few years with small roles in both American Horror Story and American Horror Stories (yes, apparently there's a difference), has just signed on for a new film, and will soon have the chance to hold her own alongside some veteran actresses.
It was just announced that Gerber will act alongside Elisabeth Moss and Kate Hudson in a new psychological thriller from Max Minghella, whom Gerber just worked with thanks to her small role in Damien Chazelle's Babylon. The new movie, called Shell, is set in the future "when humanity's cultural obsession with youth and beauty has been taken to new extremes," according to Deadline. Moss will play Samantha in the film, a woman given the opportunity to try Shell, a new company promising eternal youth to its customers. After undergoing treatment, Samantha begins developing a friendship with Shell's CEO, Zoe, played by Hudson. When former Shell patients—including influencer Chloe, played by Gerber—start going missing, however, Samantha realizes she may also be in danger.
"Shell packs a wildly entertaining genre movie with iconic characters and universal themes that are bound to have people talking long after they leave the theater," Minghella said. Moss, who has worked with Minghella for years on The Handmaid's Tale, added, "This is one of the most unique, entertaining and special scripts I've ever read and I am so honored to be a part of it as an actor and flattered that Max came to me with this character, who's unlike anyone I've ever played before."
The timeline for the film is unknown, but if you're looking to see Gerber in action sooner, you're in luck. The model will soon star in Bottoms, a teen comedy from from Rachel Sennott and Emma Seligman. The film premiered at SXSW in March and will be released in theaters this August.