There's No Stopping Rachel Sennott
The Bodies Bodies Bodies scene-stealer hints at what to expect from her upcoming queer comedy Bottoms.
Interview by Lynn Hirschberg
Photographs by Jamie Hawkesworth
---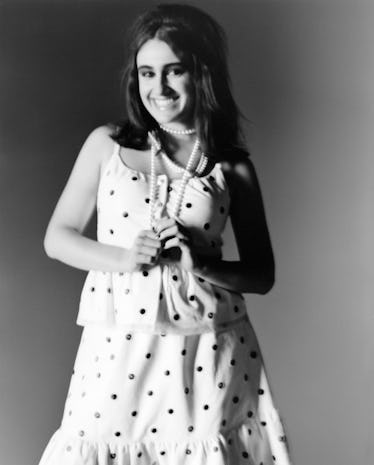 Rachel Sennott wears a Chanel top and skirt; Assael necklaces.
Auditioning for a horror movie via video call comes with its pitfalls—try explaining all that screaming to your concerned Airbnb neighbors—but Rachel Sennott takes it all in stride. After her breakthrough role in Shiva Baby, the actor simultaneously irked and charmed audiences in the satirical slasher Bodies Bodies Bodies, in which she plays Alice, a self-obsessed podcaster. In the film, Sennott showcased her knack for embodying the most cringeworthy aspects of Gen Z—lovingly, of course. In conversation with W, she talks about collaborating with her best friend, the director Emma Seligman, and their upcoming project, Bottoms, which also stars Sennott's pal Ayo Edebiri.
Were you a theatrical child?
I was annoying as hell. I forced my five siblings to do plays that I wrote, directed, and starred in. I was bossy. I would call "Rehearsal!" and knock on everyone's door. Eventually, they stopped wanting to be in my plays.
What was your audition process for Bodies Bodies Bodies like?
I was staying in this Airbnb in Burbank, and it had really thin walls. I did my tape, and then I got a callback with Halina [Reijn], the director. I was like, I've got to nail it. So I'm running the audition scene, which was me in the kitchen when they pull out the knife, so there's a lot of screaming. After that, my neighbors were like, "Have you been okay?"
You and your friend Emma Seligman, the writer and director of Shiva Baby, have another film in the works. What can you tell us about it?
We wrote a movie together called Bottoms, which we shot last spring. It was really fun and wild and so different from Shiva Baby. In Shiva Baby, we're basically in a house with a lot of older actors. This movie, we're on a football field. We're in a house. We're in a yard. We're driving around. We're doing stunts. Everyone is, like, 20 years old, and the energy was like "Aah!" I star in it with my friend Ayo Edebiri. We did things together when we were still in college. So to get to go back into our little improv dynamic was so fun.
What is your secret skill?
I love organizing rooms. I like to tear apart a room, and then I love folding my underwear into little bow balls. I will do this for other people—some people don't like it, and they're sort of like, "Get away." But I say, "I'm helping you. Let me in."
Do you have a go-to karaoke song?
"Hopelessly Devoted to You" by Olivia Newton-John. It's a good crooning song. The other song I love for karaoke is "Enchanted" by Taylor Swift—I love a song with a build.
What's your astrological sign?
I'm a Virgo. Virgos are sensitive, and they're planners and organizers. We can be a little uptight, but it's because we care.
Who was your cinematic crush?
Growing up, I liked both Taylor Lautner and Rob Pattinson in Twilight. People were like, "Team Edward? Team Jacob?" I was like, "I'm team sexy love story!"
Hair for portfolio by Anthony Turner at Streeters; makeup for portfolio by Lucia Pica for Byredo at Art Partner. Senior style editor Allia Alliata di Montereale; senior fashion market editor Jenna Wojciechowski. Manicure for portfolio by Michelle Saunders. Set Design by Gille Mills at 11th House.
Produced by Connect the Dots; executive producer: Wes Olson; producer: Zack Higginbottom; production manager: Nicole Morra; photo assistants: Cecilia Byrne, Jack Buster, David Gurzhiev; retouching: Simon Thistle; fashion assistants: Julia McClatchy, Tori López, Jacqueline Chen, India Reed, Nycole Sariol, Derek Ezra Brown, Karla Garcia, Rosa Schorr; production assistants: Khari Cousins, Tchad Cousins, Kelsey Swope Romero, Mateo Calvo, Juan Calvo, Rayon Pollard, Gina York, Peter Ditzler, Nico Robledo; hair assistants: John Allan, Dylan Michael, Ramdasha Bikceem, Malika Palmer; makeup assistants: Kate O'Reilly, Lilly Pollan, Bailee Wolfson; manicure assistants: Pilar Lafargue and Victoria Valenzuela, Jolene Brodeur; set assistants: Cory Bailey, Dirk Knibbe, Joel Garcia, Matt Day; tailors: Irina Tshartaryan, Ripsime Vartanyan at Susie's Custom Designs, Inc.