Ellie Bamber Will Take on the Role of Kate Moss in the Upcoming Moss & Freud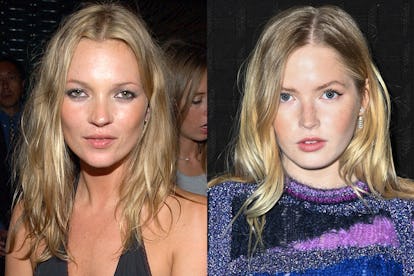 Dimitrios Kambouris/WireImage for W Magazine/Stephane Cardinale - Corbis/Corbis via Getty Images
When one film about a cultural icon dies, another is born, apparently. Coming off the news that Madonna's biopic has officially been scrapped, we've learned that another star will be getting the silver screen treatment. Kate Moss' relationship with artist Lucian Freud is set to take center stage in the upcoming Moss & Freud and the film already has its Moss lined up, no bootcamp necessary.
The film will star 26 year-old British actress Ellie Bamber as Moss as well as Derek Jacobi as Freud, and will be the first full length feature from the director, James Lucas, who is most well-known for his Oscar-winning live action short film The Phone Call. Moss will executive produce the project with the support of the Lucian Freud Archive.
Bamber already comes with the approval of another major fashion figure. Her breakthrough role was in Tom Ford's second feature film Nocturnal Animals. Though, you might have also seen her in Disney's The Nutcracker and the Four Realms or the recent fantasy series Willow.
According to Variety, Moss & Freud will take place in Freud's Holland Park studio, as well around London in the early 2000s. The story will "explore Freud's mysterious past and Moss's life as a globally recognized supermodel." It was at the peak of the supermodel era when Moss agreed to sit for Freud, then one of the leading artists of the 20th century. Over nine months, as Freud worked on the portrait, the two developed a relationship. Despite their vastly different upbringings (Freud—the grandson of psychologist Sigmund Freud—was born in Berlin and moved to England in 1933 to escape Nazism, while Moss was born in London and recruited as a model at the young age of 14), the two found themselves to be kindred spirits and learned a lot from each other during their time together.
"As this is such a personal story of mine it has been essential that I be involved with James in all aspects as the project has developed," Moss said about the film. "I am thrilled by the recent casting and excited that the film will begin shooting soon, I cannot wait to see it."
Ellie Bamber on the Fashion Awards Red Carpet in 2022
Kate Moss in 2001