Is Kendall Jenner Bending Her Dating Rules for Bad Bunny?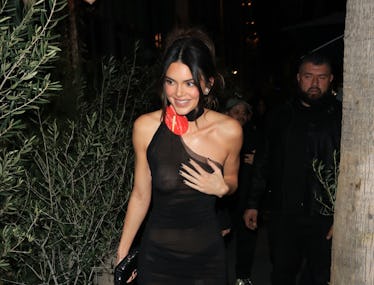 Wil R/Star Max/GC Images/Getty Images
Kendall Jenner's dating life is about as private as a member of America's most famous family's could be. Still, the model reportedly sticks to strict rules before she officially goes public with a relationship. And yet, this weekend, she was spotted "canoodling," as they say, with rumored new flame Bad Bunny in the middle of Coachella, the festival where everyone is armed with a phone and maybe the country's biggest "Content Factory." So much for keeping that low-key—but is she breaking her own rules for the biggest Latin music star in the world?
According to a former Keeping Up With The Kardashians executive producer, Farnaz Farjam, Jenner maintains a rule that she must date someone for at least a year before the relationship is so much as mentioned on the family's reality show. "She doesn't always know what people's intentions are," he told Bravo's The Daily Dish podcast back in 2021.
That long-term guideline also seems to apply to other areas of Jenner's life as well, including social media and public appearances. Take her last relationship with NBA star Devin Booker, for example. Dating rumors swirled quietly around the pair for about a year, until she finally made it Instagram official back on Valentine's Day 2021 (technically about 10 months after they reportedly first started dating). Until then, the pair took great pains to keep things quiet, vacationing together in spots far from the public eye, like road trips in Arizona or visits to Idaho lakes. Although they were occasionally seen eating out with family and friends, the pair were rarely photographed during this time. In fact, Jenner didn't start publicly attending Booker's games until they were Instagram official.
It also seems Jenner has shared her rules with some famous friends. Bella Hadid didn't go public with her relationship with current beau Marc Kalman until they had dated for about a year.
So Jenner not only attending Coachella, where Bad Bunny was a headliner, but being seen out and about in the middle of crowds with him certainly stands out compared to the rest of her dating history. The details of their courtship remain discreet, but the current story in the rumor mill is that the pair met at a club on Presidents' Day weekend in February before quickly moving onto a more formal dinner date.
The Coachella canoodle is certainly their most public display yet, especially considering the music festival is sort of the anti-Las Vegas: what happens at Coachella is sure to be broadcast to the world via thousands of Instagram stories, TikToks, and gossip page items. Whatever the case may be, this is certainly more public than whatever may or may not be going on between Jenner's sister Kylie and Timothée Chalamet (while Kylie was also at Coachella, Timée was nowhere to be seen).
Yet, Jenner hasn't technically broken her rules—just seemingly bent them. The pair has yet to make a jaunt down the red carpet or appear on each other's social media, and Bunny certainly hasn't showed up on the family's new Hulu show. Still, Bunny's own massive fame could help explain the rule-bending. He's already one of the most massive music stars in the world (he closed out 2022 as Spotify's most-streamed artist globally), so whatever his intentions are, he's likely not using Jenner for the fame. Besides, considering how famous both parties are, trying to keep this relationship too private might have been like lancing windmills anyway.