The Complete Timeline of Bad Bunny and Kendall Jenner's Rumored Relationship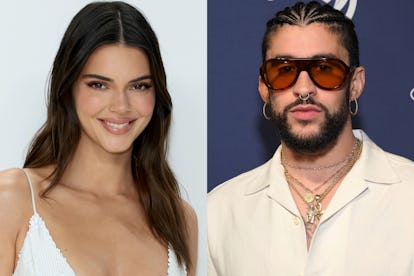 Dimitrios Kambouris/Getty Images/Michael Kovac/Getty Images for GLAAD
When it first began back in February, many believed (or hoped) the fling between Kendall Jenner and Bad Bunny was just a drop in the pan, another celebrity tryst that would barely last longer than the first round of headlines surrounding it. Now, it's been a month and a half, and clearly, it's still going strong. The model and singer continue to pop up together around Los Angeles, and there's no denying that something is going on between them. As of now, nothing has been confirmed, but in the meantime, it seems worth it to keep track of everything we know about the couple, from that first kiss back in February to now.
February 16, 2023:
Instagram gossip monger DeuxMoi shared a tip that a "single, famous model sister was seen playing tonsil hockey with Bad Bunny at a private L.A. club last night." Many oscillated between the woman in question being Gigi Hadid or Jenner, but in the end, the human behind DeuxMoi revealed on her podcast that it was, in fact, Jenner. Apparently, there were witnesses to the make out session, which occurred at the Bird Streets Club in West Hollywood over President's Day weekend.
February 18, 2023:
The relationship between Jenner and Bunny has quickly moved on from the club to a formal date as the pair was seen leaving the same restaurant (albeit separately and from different exits). Justin and Hailey Bieber were also seen departing the restaurant at around the same time, leading many to assume the foursome was on a double date.
February 20, 2023:
Just like with any burgeoning celebrity couple, it was only a matter of time before the People reports came in. A week into the "relationship," the site is reporting that Jenner and Bunny are "spending time together" after "they were introduced by friends."
"She likes him and is having fun," a source told People. "He is different from guys that she dated in the past. He is very charming." According to Entertainment Tonight, the feelings are reciprocated by Bunny. "Kendall and Bad Bunny are attracted to each other and definitely have a flirty vibe," a source said. "It's been fun for both of them so far." ET stressed, though, that it is "not serious and the two are having fun."
March 7, 2023:
Weeks after they first sparked dating rumors, Kendall and Bunny headed to Sushi Park in West Hollywood with some friends, including the model's younger sister, Kylie. When leaving the restaurant, the paparazzi caught Kendall and Bunny embracing in a hug and kiss before parting ways.
March 9, 2023:
Entertainment Tonight provided another status update, reporting that the pair is taking "things slow for now and seeing where things go in the future." Apparently, they "both really like each other and are just hanging out and having a good time. They get along very well and have mutual friends, so the people around them really like them together. Her family is supportive of their relationship. Everyone is happy that Kendall's happy."
March 12, 2023:
While Jenner attended the Vanity Fair Oscar party solo, she met up with Bunny later in the night at Beyoncé and Jay-Z's super private event at Chateau Marmont. They were even seen leaving in the same car together at four in the morning.
March 14, 2023:
According to Us Weekly, "things are not official between Kendall and Bad Bunny, but they're seeing each other on a regular basis and getting to know each other better." At this point, though, Jenner's feelings are apparently "starting to grow" after "spending more time" with the singer.
"It's not super serious, but she likes him and is open to seeing where things go with him," the source continued. "Kendall appreciates how he treats her with respect and he makes her laugh."
April 4, 2023:
After staying out of the spotlight for a few weeks, Jenner and Bunny emerged again, this time on horseback. The singer and model were spotted going for a ride together at the Hidden Hills Equestrian Center. According to TMZ, they took turns on the horse and even rode together at one point. Jenner is an infamous celebrity horse girl, and has claimed that at one point her only friends were her horses. So, if she's introduced Benito to her equines, that probably means its getting serious.