Kendall Jenner's Sheer Thong After-Party Look Took Inspiration From The Chanel Archives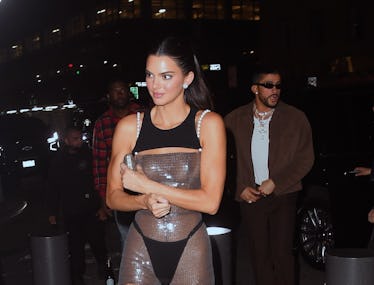 JosiahW / BACKGRID
Kendall Jenner swapped a sequined, pants-free look at the Met Gala for a sequined, sheer, mini-shorts look for the after party.
After taking a towering high turn on the red carpet alongside her famous family (who, it appears, were invited after all) wearing a collared, cape-sleeved Marc Jacobs bodysuit and sky-high platform boots, Jenner slipped into something a bit more revealing — and perhaps familiar.
The corseted, see-through bodysuit with pearl-adorned straps and a tiny black top and thong over it is a recreation of a look from Chanel's spring/summer 1994 runway by London-based designer Nensi Dojaka. The custom ensemble is, according to the brand's Instagram stories, a "tribute creation in honor of one of Karl's iconic looks."
Sheer is a staple in the 818 founder's Met Gala (and all the time) wardrobe. Just a few days ago she was spotted in New York wearing a see-through, cobalt blue dress with a feathered bottom. In 2022 she wore a sheer Prada top with a massive black skirt, while in 2021 she appeared, dripping in crystals and little else, in a Givenchy gown.
Unlike Dua Lipa, Naomi Campbell and Nicole Kidman (to name a few) who dipped into Chanel's actual archives for the event, Jenner's updated spin on a classic Karl look served as a (form)fitting tribute.