Despite Initial Reports, the Kardashians Once Again Took On the Met Gala in Full Force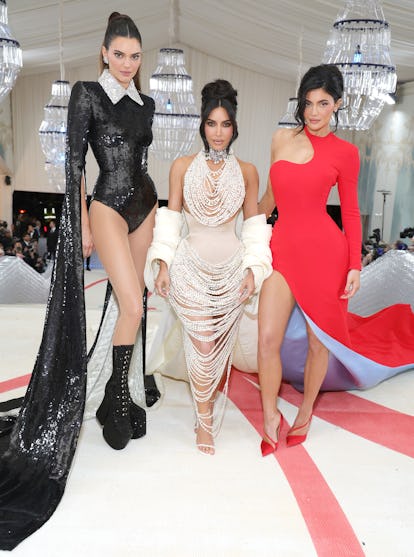 Kevin Mazur/MG23/Getty Images Entertainment/Getty Images
Immediately after it was reported back in March that the Kardashians were getting the boot from the 2023 Met Gala, speculation began. Just one year ago, the famous family came out in full force, taking over the steps with all five sisters, their significant others, and their momager in tow. Could Anna Wintour and the Met Gala team have pulled a 180 in just 12 months time? Did they taste the Kardashian pie and say, "No more for me, thank you"? Of course not. We, as a society, have been digging in on the Kardashians for years, and while we may have gotten stomach aches at times, never have we ever refused another course. And clearly, the Met Gala hasn't either, because while the portion reduced in half the size, the Kardashian-Jenners were very much present on the 2023 Met Gala red carpet.
While last year, Kim Kardashian shut down the event, finishing off the parade of KarJenners with then-boyfriend Pete Davidson by her side, this time around she arrived with the rest of the general public (which, to be clear, at the Met Gala still includes the tippiest top of the A-List), and she did so solo. Her daughter, North West, was seen exiting the Ritz Hotel with her mother, wearing a light pink tweed jacket with strings of pearls, looking ready to walk the steps herself, but she was relegated to the car—thanks to the event's 18+ age policy—where she sat and watched her mother do her thing. Kardashian, meanwhile made it inside, continuing her strong streak of Met Gala looks with a custom Schiaparelli gown by Daniel Roseberry.
"I wanted pearls," she told Chloe Fineman and Derek Blasberg on the red carpet. "I thought, what is more Karl? The iconic Chanel pearls is what I always thought of so we wanted to be dripping in pearls." Kardashian stuck to what seems to be her go-to Met silhouette—an impossibly cinched waist. The reality star wore a nude corset with a top created from dozens of strands of pearls and a skirt made with the same effect, while an ivory shawl wrapped around her arms and fell in a train behind her. Kardashian revealed that the pearls were, in fact, real, and when one strand broke in the car, she enlisted North to gather them up as quickly as possible.
One would think Kardashian would be nervous about her return to the Met following her controversial appearance last year, but she seemed completely at ease during her red carpet interview. "I really didn't feel the pressure," she claimed. "I just wanted to have a good time," revealing that a shot she took with her sisters ahead of the red carpet aided in her sense of calm.
It wasn't long before Kardashian was joined by her youngest sister, Kylie Jenner, who wore a completely contrasting look to Kardashian's romantic pearl ensemble. While many opted for a black and white color scheme to honor Lagerfeld, Jenner went all in on the color, wearing a bright red Jean Paul Gaultier by Haider Ackermann dress. It was a relevant choice considering her campaign for JPG dropped the same day, though an irrelevant one when it came to the night's theme. The ensemble featured a bright red dress with an asymmetric neckline and a high slit. On top, Jenner covered up in a blue silk robe that attached to the train of her dress, a glamorous take on a boxer's pre-ring warm-up ensemble. Like her sister, Jenner was also joined by her daughter, Stormi Webster, who wore a denim set and a Jean Paul Gaultier t-shirt to escort her mother to the Met, but she likely stayed in the car with her cousin.
The group was then rounded out by Kendall Jenner, who was the most obviously on-theme in a sequin-covered leotard with a high, white Lagerfeld-esque collar, and dramatic sleeves that turned into two trains behind her. The ensemble, created by Marc was completed with his signature platform boots, which caused her to tower over her older sister. The trio came together to speak with their friend, La La Anthony, at the top of the red carpet. Once there, one saw the clashing nature of their ensembles, causing one to wonder if they communicated at all during their respective design processes. Clearly, though, they were unconcerned with that the others were wearing, just that they were all there together, and Kim took the opportunity of the mic and cameras to remind the masses why they did deserve an invite to the event.
"Kendall really started her modeling career with Karl and was the bride in so many of his shows," Kardashian recalled. To be fair, she was the bride once (which in itself is quite the feat), though she did walk in his shows many times. "I think it's a little emotional," Kendall chimed in. "I owe a lot to [Lagerfeld] and what he did for me. It was such a pivotal point in my career. I started working with him when I was really young and really new and he really embraced me so I'm honored to be here. I'm honored to celebrate him." Kardashian also reminded everyone at home that Lagerfeld shot her first ever fashion shoot, a spread for CR Fashion Book back in 2013.
From there, the threesome headed inside, their looks clashing where they were faced with boyfriends of past and present, as Davidson was once again in attendance this year, as was Kendall's rumored beaux, Bad Bunny. While the model and singer did not walk the red carpet together, it is likely they reconnected amid the dress displays in the exhibit where the sisters could all breath a sigh of relief after completing another successful, Met Gala Kardashian takeover.