The Kardashians Held "the Olympics" of Drunk Karaoke for Valentine's Day
Including a "Runaway" singalong, Kris getting "waisted," and grumpy Kanye.
---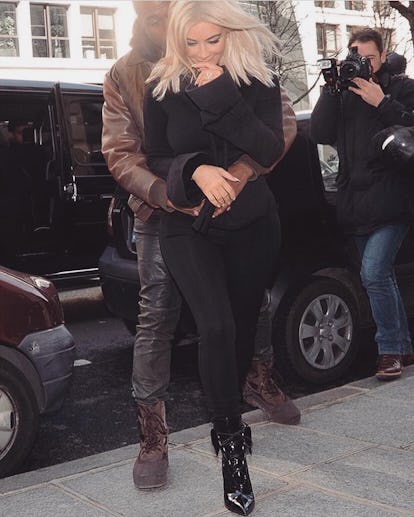 Courtesy of @kimkardashian
After wrapping up a hard day of work—in between promoting her contour and lipstick kits, Kim Kardashian continued being one of the most vocal names calling for Congress to act when it comes to gun control, while Kanye West returned to Instagram with a nonstop nine-hour posting spree—the couple and more Kardashians gathered round the table at Kris Jenner's house for a wholesome family dinner on Wednesday night. It was, of course, Valentine's Day.
At least, the evening started started out very wholesome. In preparation, Kris had hung roses from the chandelier over the table and designated each diner's seat with place settings made out of the chipped chocolate remains Kim used to deliver her new fragrance. Kim documented this on Instagram stories, gushing how her mom was "cute" and "so resourceful." After champagne and caviar, the guests—which included Khloé Kardashian and Tristan Thompson, as well as Kris's boyfriend Corey Gamble, Rob Kardashian, Jada Pinkett Smith, Faye Resnick, and Real Housewives of Beverly Hills pair Kyle Richards and Mauricio Umansky—then share a chef-cooked, candlelit meal. Oh, and there was a lot of booze.
Pretty soon, Kim was raising her wine glass of water in a toast to join in the singalong to Kanye's song "Runaway," which even had Kanye smiling. It's always nice to see Kanye smile, but especially since he'd just rejected Kim in two of her Instagram stories, staying so stony-faced in a video Kim captioned "Kimye4ever" that she had to remind him, "you're half of Kimye," and then ducking out of filter range in another, prompting Kim to explain, "He's not into filters. He's ignoring me once he realized I was on a filter." (Skip to 0:23 below for a look at these sacred moments.)
Before long, though, the color scheme switched over from red to rainbow as the crew moved to the to the living room decorated with a neon artwork by Tracey Emin and a pillow reading "Blessed." They were soon joined by multicolored strobe lights, which had been turned on for a karaoke session that saw Kris hold court in a sequined red dress with Richards serving as her sidekick. Together, the pair powered through hits like "Uptown Girl," "…Baby One More Time," and "Build Me Up Buttercup," though there was definitely some fumbling when it came to Spice Girls' "Wannabe."
While Kim cheered on from the sidelines, anointing their performance the "Olympics of karaoke!!!!" and proclaiming them to be "waisted" [sic], Khloé took a much more active role in capturing her mom at her tipsiest, encouraging her to keep moving by yelling, "mom, you're not dancing!" at which point Kris joined in again before promptly collapsing on the couch. When Khloé leaned in for a close-up, repeatedly yelling in her face, "live your life!" Kris gave her daughter the finger—and proved she still had it by getting back on her feet.
Related: How Barack Obama, Kim Kardashian, Chrissy Teigen and More Celebrities Celebrated Valentine's Day 2018