Khloé Kardashian Admits She Was "Cautious" About Falling in Love with Tristan Thompson
"You cannot fake the energy or chemistry that you have with someone."
---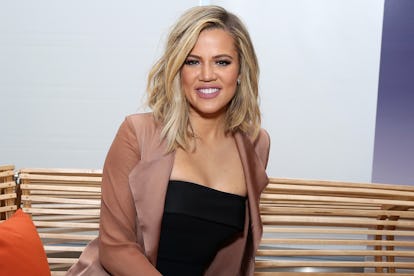 Getty Images
Despite being very open about being the happiest she's been in her life—with a baby on the way, of course—Khloé Kardashian is admitting that while she fell for her boyfriend of about a year, NBA player Tristan Thompson, rather quickly, it took some time to fully get to a point of trust with him. (Well, an ex-NBA player husband with a secret penchant for brothels can certainly do damage on your psyche.) How exactly did she know Thompson was "the one" so easily, you ask?
"My answer for this probably doesn't apply to everybody, but I knew Tristan was the one very quickly—I have never felt so comfortable or so safe with someone," she wrote on her app. "Because of that, I took it very slowly and was cautious about how I went about 'us.' I made sure we had very in-depth conversations. I wanted to make sure that those conversations were backed up by actions."
Without naming names, Kardashian continued to write that their moral values lined up better than with any beau she had in the past. In fact, it even surprised herself. "Tristan was so forthcoming with his life, as I was with mine. It was really reassuring to feel that someone had the same belief systems as I did. We shared the same principles and morals. We spoke about religion, children and our families. I think all of those things are important to truly know the ins and outs of someone," she explained. "It's really easy to fall in love with someone during a honeymoon phase when you haven't yet discussed the logistics of life. But you have to talk about the real things if you want a real/long-lasting relationship."
Additionally, Kardashian notes that you just can't fake the passion: "That being said, you cannot fake the energy or chemistry that you have with someone. That means more to me than any conversation. But you need that foundation for when the honeymoon phase is over. You still must have respect and a mutual love for one another."
Now, if only she'd indulge us with some more potential baby names.
A Brief History Of All the Times the Kardashians Have Gone Blonde
Kim Kardashian steps out in a blonde lob alongside husband and rapper Kayne West during Paris Fashion Week in 2015.

@kimkardashian
Kendall Jenner looks unrecognizable with her blonde wig walking alongside Gigi Hadid who also sports a brunette wig after the the Balmain Fall 2016 show in Paris.

@kendalljenner
Known for her ever-evolving hair colors, the youngest of the Kardashian/Jenner crew wears her locks in long, tousled waves.

@kyliejenner
These days, Kim Kardashian can regularly be seen sporting her blonde locks and poses alongside with singer Fergie and model Chrissy Teigen backstage during Fergie's "M.I.L.F" music video.

@kimkardashian
Khloe Kardashian, the most regularly blonde of the whole family, wears her long platinum locks sleek straight with a nude lip.

@khloekardashian
Sporting dramatic platinum blonde locks during New York Fashion Week, Kim Kardashian steps out for the Yeezy Season 3 show.

@kimkardashian
Kylie Jenner takes on a silver platinum shade, wearing a sleek, middle-parted pony in tousled wet waves.

@kyliejenner
As the most recent Kardashian to go blonde, Kris Jenner debuts a chic platinum blonde pixie.

@kimkardashian
Khloe Kardashian takes her blonde locks to new heights, sporting perfectly tousled air-dried beachy waves.

@khloekardashian
At the 2017 Met Gala, Kylie Jenner showed up in a side-swept chin grazing blonde bob.

@kyliejenner
After debuting silver platinum locks during New York Fashion Week, Kim Kardashian styles her locks in an ultra sleek high pony.

@kimkardashian
Posing alongside sister Kendall, Kylie wears her blonde locks in soft, polished curls.

@kyliejenner
While she may have temporary tried on a platinum pixie, Kris Jenner starts off the New Year with freshly dyed tousled do.

@krisjenner