You Betta Watch It Sophie, Kim Kardashian Is Embracing Her Inner Essex Girl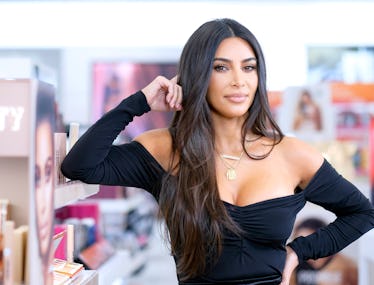 Dimitrios Kambouris/Getty Images for ULTA Beauty / KKW Beauty
Kim Kardashian may be the most famous reality star to come out of the United States, but what if Kardashian got her name from starring on, say, Big Brother UK or The Only Way is Essex instead of Keeping Up With the Kardashians? Well, it's unclear if anyone was actually asking that question, but thanks to Kardashian herself, we have an answer.
If you didn't know, Kardashian is currently in her TikTok era, often making videos with her nine-year-old daughter, North West. But while North may have been art directing this TikTok from behind the camera (as she's been known to do), this one was seemingly all Kardashian.
In a move fitting for a 42-year-old woman, Kardashian decided to jump on a trend months after it hit its apex. Set to the tune of Blackpool, England-based grime rapper Millie B's viral song "M to the B" Kardashian transformed in front of our very eyes. Starting with her usual look of clean, mostly natural-looking makeup, Kardashian (attempted) to lip sync to the rap as she applied layers upon layers of products to her face in order to achieve the British "chav" aesthetic. First, the eyebrows turned to dark blocks, then, the foundation (many shades off) got poured on and applied to her skin followed by way-too-light concealer under her eyes. Fake eye lashes applied poorly, aggressive contouring, and concealer on the lips completed the makeup look, with a high, messy top bun sealing the deal. Before our eyes, Kardashian went from excruciatingly curated American reality-star-turned-billionaire to chav.
For the non-Brits, a chav is a stereotype popular in the UK, especially in the 2010s, often referring to a person who wears their makeup much like Kardashian demonstrated. Their known for "engaging in aggressively loutish behavior" according to Merriam-Webster, and often wear flashy jewelry and athleisure in the form of tracksuits. Obviously, the aesthetic also proliferated across the UK's many, many reality television show. The aesthetic has gained recent popularity again on TikTok, helped by the virality of Millie B's song.
In fact, by the end of the turoial, Kim bares something of a resemblance to a very, very messy take version of Katie Price, the closest England has ever come to producing a Kardashian of their own.
While Kardashian usually doesn't slip from her well-constructed look with a style, aesthetic, and life to match, TikTok has given the reality star an outlet to have a little bit more fun. Within the walls of her eerily modern home, she has engaged in makeup trends and viral dances with the help of North, and now, she's exploring an alternative, British-based reality. While the rest of us are looking toward indie sleeze for the next trendy aesthetic, maybe Kardashian is pointing us more to the chav look.