Kristen Stewart Has Never Really Played By the Rules of the Cannes Film Festival Red Carpet
She can—but she can just as easily not, blithely bucking convention when it comes to one of the world's most high profile red carpet.
---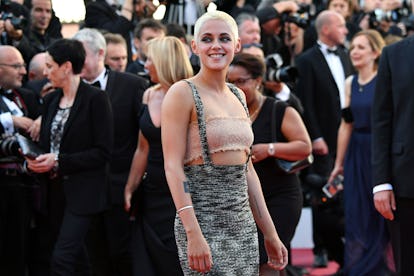 LOIC VENANCE/Getty Images
The French were the first to acknowledge Kristen Stewart as a serious actress—she was the first American actress to win a César acting award, the French equivalent of an Oscar, for The Clouds of Sils Maria; her biggest films of the past three years, including Café Society and Personal Shopper, have all premiered at the Cannes Film Festival—and she has repaid the favor with an irreverent, iconoclastic wardrobe on the Cannes red carpet worthy of a French girl.
This year, Stewart is back in the south of France with a new task: premiering her directorial debut, the short film Come Swim. In a new interview with the Hollywood Reporter, in which she discusses her first outing as a director, she also sounds off on the "distinct dress code" of the red carpet, which she declares a thing of the past.
"People get really upset at you if you don't wear heels or something, whatever. But I feel like you can't ask people that anymore—it's just kind of a given. If you're not asking guys to wear heels and a dress, you cannot ask me either," she says. In evidence: Over the weekend, Stewart attended the premieres of the French film 120 Battements Par Minute and her own short, walking the red carpet in a fresh-off-the-runway Chanel Resort 2018 look with black sandals. The dress comprised a bouclé jumper with a frayed hem that hit just at the ankle, paired with a peach-pink bandeau. Contrasted with elaborate looks on the likes of model Liya Kebede, in Paco Rabanne, Kendall Jenner, in Giambattista Valli, or Isabeli Fontana, in custom fuchsia Alberta Ferretti, Stewart's Chanel stood out for its daytime aesthetic.
Yet, judging by her Cannes looks over the years, Stewart has never shied away from bucking tradition on the red carpet. She first attended the festival in 2012 to premiere the film adaptation of Jack Kerouac's On the Road, in which she played Marylou; for a photocall ahead of the festival premiere, she opted for a white t-shirt, black blazer, and yellow-and-blue print trousers paired with black pumps. (Pre-head-shaving or bleach-blonding.)
But it was at the premiere for The Clouds of Sils Maria two years later, the announcement of Stewart's arrival as an actress to be reckoned with, post-Twilight and post-child stardom, that she really set the standard for her rule-defying aesthetic. She stars in the film alongside Juliette Binoche and Chloë Grace Moretz as the cipher-like assistant to the actress in the twilight years of her career played by Binoche; it's this role that earned Stewart her Best Supporting Actress César in 2015—and it was at this film's premiere that Stewart set the standard for low-key Chanel looks to follow.
Stewart walked onto the red carpet in a peach-colored, sequined top-and-trousers combination; it was couture, from Chanel's Spring 2014 couture collection, and yet somehow simultaneously something like a luxurious track suit without sleeves. Her hair, a vivid henna red, was halfway grown out, exposing her dark brown roots. She wore heels, which only further underlined her already offbeat look. Binoche wore a black-and-white wrap dress, understated and elegant, while Moretz selected a feather-embellished high-low dress.
Stewart's was an expert move: No one can expect heels and dresses if you were never wearing them in the first place—right?
From time to time, the actress has opted for more formal looks, but with Karl Lagerfeld's blessing, totally irreverent looks far outnumber quotidian red carpet options. Visibly uncomfortable in heels, Stewart knows even the most ethereal of Chanel dresses can pair well with beat-up sneakers, which never seem far from reach. (She pulled this trick at the photocall and premiere for Olivier Assayas's Personal Shopper—the same director who led her to acclaim in The Clouds of Sils Maria, thus likely accustomed to her red-carpet antics.)
It's a tried-and-tested trick for women whose professional obligations dictate they wear heels, whether in office work or in Hollywood. Still, few are as overt about the switch as Stewart, who swaps out her shoes for the paparazzi to see while decrying the gendered double standard that dictates she wear heels in the first place.
Also at last year's festival, Stewart premiered the new Woody Allen film Café Society alongside Jesse Eisenberg and Blake Lively. She arrived armed with a closet full of Chanel and her stylist Tara Swennen, who coached her through the circus of premiering not one, but two films—the aforementioned Personal Shopper and Café Society. For the latter's photocall one balmy Cannes morning, Stewart appeared in a white cropped t-shirt with an ivory Chanel skirt and a pair of low pumps.
Only it turns out, that t-shirt wasn't always quite so cropped—though Stewart and Swennen had originally eyed a sweater to pair with the skirt, the weather didn't quite permit, so they instead took a pair of shears to the t-shirt to shorten it an inch or eight.
"It always makes me cringe a little bit, like is Karl going to come kill me at some point," Swennen told the Telegraph of Stewart's crop-top look, which the actress repurposed for another look later in the day.
So it's little surprise that Stewart is speaking out this year, and sporting the wardrobe to back it up. Still, she added, "I'm super stoked about what I'm wearing tonight," according to THR. Sure, Cannes is all about the films, "but it's a cool place to show off the goods."
From Jeans and Tees to Chanel Couture, Kristen Stewart's Best Looks in 2016
Kristen Stewart started 2016 right wearing a sexy leather and lace ensemble for the New York Film Critics Circle Awards.

Photo by Getty Images.
Stewart wore the same shoe again at the Film Society of Lincoln Center's annual luncheon.

Photo by Getty Images.
Wearing the shoe of the year, the Chanel mule, Stewart cut a chic look at the National Review Board Gala.

Photo by Getty Images.
Kristen Stewart arrives in Park City, Utah, for the Sundance Film Festival, wearing her go-to distressed denim and hat.

Photo by Getty Images.
In Paris after fashion week, Stewart steps out with then-girlfriend Soko, wearing a classic moto and dark denim, and her favorite Vans.

Photo by Getty Images.
Kristen Stewart glows in Chanel at the Met Gala.

Photo by Getty Images.
Stewart continues her laid-back look by pairing a t-shirt with her silk skirt and personal silver jewelry, on the red carpet at Cannes.

Photo by Getty Images.
Kristen Stewart at the premiere of 'Personal Shopper' at the Cannes Film Festival.

Photo by Getty Images.
A smart tailored look is paired down with Stewart's signature sneaker, a pair of Vans, at Cannes.

Photo by Getty Images.
Airport style with then-girlfriend Alicia Cargile at LAX.

Photo by Getty Images.
All black and blonde for a Chanel event in London.

Photo by Getty Images.
Wearing all white, Kristen Stewart walks to Good Morning America for her appearance on July 11th in New York.

Photo by Getty Images.
Kristen Stewart goes sheer for the premier of A24's 'Equals' in Hollywood.

Photo by Getty Images.
In a look that references her Met Gala dress, Stewart wears a midriff baring Chanel number at the Cinema Society Screening of 'Cafe Society' in New York.

Photo by Getty Images.
Kristen Stewart at the 54th Annual New York Film Festival.

Photo by Getty Images.
Kristen Stewart brings new girlfriend St. Vincent to the CFDA Vogue Fashion Fund Show in Los Angeles.

Photo by Getty Images.
From Jeans and Tees to Chanel Couture, Kristen Stewart's Best Looks in 2016