Breaking: Kylie Jenner Has Chosen a New Favorite Sister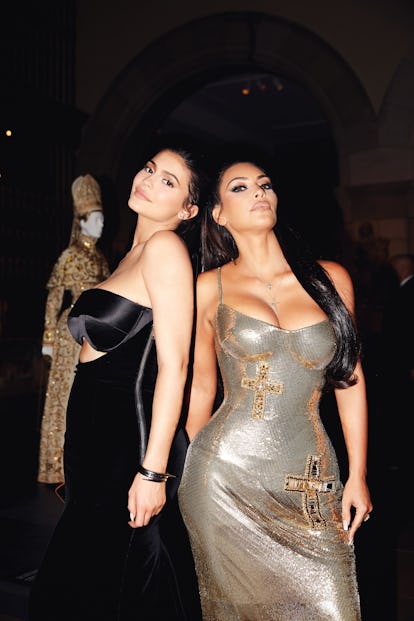 Taylor Jewell/Getty Images Entertainment/Getty Images
The great thing about having four sisters is that, when one is annoying you, you can just toss her to the side for a bit and move on to another. It seems like that's what Kylie Jenner has a tendency to do. Every time the reality star is asked about who her favorite sis is at the moment, she has a different answer, but alas that's just the reality of sibling relationships.
In her cover story for Vanity Fair Italy, Jenner was asked, as she usually is, to pick her current favorite of the four. "It changes over time," she said. "Right now it's Kim." Jenner explained her reasoning for the choice, saying that she and Kim have been "going through a lot of similar experiences lately." It is possible that Jenner is referring to Kim's navigation of her divorce and coparenting her four children with her ex-husband. While nothing has been confirmed, there are rumors that Jenner and Travis Scott have broken up, meaning Jenner would be dealing with a similar situation, as the pair share two children together.
"Kim has changed so much recently," Jenner said. "We are very connected, she is always the first sister I call when I need something."
Jenner further proved her connection with Kim on Wednesday, when she shared a TikTok featuring her older sister. In the video, the duo dances to Mariah Carey's 2009 song, "It's a Wrap," which has regained popularity on the app in the past few weeks. While Khloé is seen in the background of the video, she was not included in on the fun. This is fitting considering it was Khloé who Kim recently beat out to become Jenner's new favorite sister. Back in December 2022, Jenner shared a "Year in Review" video on YouTube where she called Khloé her favorite sister of the year. "We've gotten a lot closer this year," Jenner said. "We're in this little mom club and it's a whole thing." It seems two months can change a lot.
In the VF interview, though, Jenner did clarify that she learns a lot from all of her sisters. "Khloé taught me tenderness and the ability to forgive," she said. "Kendall, the importance of friendship and unconditional love; Kourtney, the value of health and the need to not be superficial; Kim, strength, and the ability to always tell yourself that you can do it, come what may. Kim is really strong, really resilient."
As for the sister she has the least in common with, well that's "without a doubt" Kendall, who's the closest in age to the 25-year-old. Likely, though, that's because Kendall is the only member of the group who doesn't have kids. That doesn't mean they aren't close, though. "You know what they say, though? Opposites attract," Kylie said. "And that's how it works with us."