Liza Minnelli Reportedly Almost Didn't Make It Out On Stage At The Oscars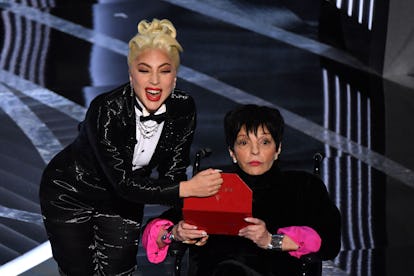 ROBYN BECK/AFP via Getty Images
While Oscars chatter continued into the night following the award show last month, as social media digested and commented on the slap that derailed the entire event, other viewers opted instead to focus on some more positive aspects of the broadcast. The chaotic night ended on a high note when Lady Gaga wheeled out Liza Minnelli and the two presented the award for best picture. Many were impressed by Gaga's grace when it came to helping out Minnelli, but the moment reportedly almost didn't happen.
According to Minnelli's old friend, Michael Feinstein, who was backstage with her during the show, Minnelli was "sabotaged" by the stage manager. Feinstein explained what happened just moments before Gaga and Minnelli were set to take the stage on a recent episode of SiriusXM's Jess Cagle Show. The artist and longtime collaborator of Minnelli's explained that the original plan was for Minnelli to sit on the stage in a director's chair. "She's been having back trouble," he said, explaining that the actress didn't want people to see her limping. "She said, 'You know, I want to look good. I don't want people to worry about me.'"
Right before the appearance, however, the stage manager reportedly told Minnelli she needed to be in a wheelchair. According to Feinstein, Minnelli pleaded, saying, "'No, I will not be seen in a wheelchair in front of everybody. I will not do this. I refuse to do this.'" Well, the stage manager said it was all or nothing so Minnelli gave in.
"She was so shaken that she was discombobulated, she was nervous and it made her look like she was out of it," Feinstein said. "Can you imagine being suddenly forced to be seen by millions of people the way you don't want to be seen? That's what happened to her." According to Feinstein, Minnelli was "disappointed" in the whole incident, but insisted the singer is "doing well" despite seeming shaky on stage. "It's a shame it turned out that way," he said.