Lorde Brought a Flask Into the 2018 Grammys That Matched Her Dress and Lipstick
She was nominated for Album of the Year, but reportedly was not allowed to perform solo.
---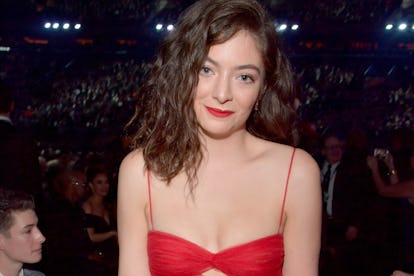 Lester Cohen/Getty Images
What does one do when one is the only woman nominated for Album of the Year at the 2018 Grammys, and yet is the only one not allowed to perform solo? In Lorde's case, the answer appears to be sneaking a flask into the awards ceremony. The Melodrama singer sat in the front row holding a cherry red container that perfectly matched her Valentino gown and lip. She got the memo about (monochromatic looks.
During a brief interlude, Lorde used the flask to punctuate her applause.
The Grammys and flasks do have a history. In fact, last year Rihanna attended the 2017 Grammys with and brought a diamond-encrusted flask along for the occasion. And lest we misconstrue how she really felt about the ceremony, RiRi made sure to preserve the moment on Instagram: "I think it's time for a shot," she says to her assistant, before taking said shot from the flask. A truly Louvre-worthy occurrence.
Related: Lorde Wore One of Jenny Holzer's Inflammatory Essays on the Back of Her Grammys Dress In Protest
Grammys 2018: See Lady Gaga, Cardi B, and More of the Biggest Stars in Music on the Red Carpet
Lady Gaga attends the 60th Annual GRAMMY Awards at Madison Square Garden on January 28, 2018 in New York City. (Photo by Kevin Mazur/Getty Images for NARAS)

Kevin Mazur
Cardi B attends the 60th Annual GRAMMY Awards at Madison Square Garden on January 28, 2018 in New York City. (Photo by Kevin Mazur/Getty Images for NARAS)

Kevin Mazur
Lana Del Rey attends the 60th Annual GRAMMY Awards at Madison Square Garden on January 28, 2018 in New York City. (Photo by John Shearer/Getty Images)

John Shearer
Camila Cabello attends the 60th Annual GRAMMY Awards at Madison Square Garden on January 28, 2018 in New York City. (Photo by Steve Granitz/WireImage)

Steve Granitz
SZA attends the 60th Annual GRAMMY Awards at Madison Square Garden on January 28, 2018 in New York City. (Photo by Lester Cohen/Getty Images for NARAS)

Lester Cohen
Jaden Smith attends the 60th Annual GRAMMY Awards at Madison Square Garden on January 28, 2018 in New York City. (Photo by John Shearer/Getty Images)

John Shearer
Kesha attends the 60th Annual GRAMMY Awards at Madison Square Garden on January 28, 2018 in New York City. (Photo by John Shearer/Getty Images)

John Shearer
Janelle Monae attends the 60th Annual GRAMMY Awards at Madison Square Garden on January 28, 2018 in New York City. (Photo by Jamie McCarthy/Getty Images)

Jamie McCarthy
Elton John attends the 60th Annual GRAMMY Awards at Madison Square Garden on January 28, 2018 in New York City. (Photo by Kevin Mazur/Getty Images for NARAS)

Kevin Mazur/Getty Images
Kelly Clarkson carries a white rose at the 60th Annual GRAMMY Awards at Madison Square Garden on January 28, 2018 in New York City. (Photo by Kevin Mazur/Getty Images for NARAS)

Kevin Mazur
Tyler, the Creator attends the 60th Annual GRAMMY Awards at Madison Square Garden on January 28, 2018 in New York City. (Photo by Jamie McCarthy/Getty Images)

Jamie McCarthy
Rita Ora attends the 60th Annual GRAMMY Awards at Madison Square Garden on January 28, 2018 in New York City. (Photo by Kevin Mazur/Getty Images for NARAS)

Kevin Mazur
Pink with her daughter Willow Sage Hart attend the 60th Annual GRAMMY Awards at Madison Square Garden on January 28, 2018 in New York City. (Photo by Lester Cohen/Getty Images for NARAS)

Lester Cohen
Cyndi Lauper attends the 60th Annual GRAMMY Awards at Madison Square Garden on January 28, 2018 in New York City. (Photo by Christopher Polk/Getty Images for NARAS)

Christopher Polk
Nick Jonas attends the 60th Annual GRAMMY Awards at Madison Square Garden on January 28, 2018 in New York City. (Photo by Jamie McCarthy/Getty Images)

Jamie McCarthy
Hailee Steinfeld attends the 60th Annual GRAMMY Awards at Madison Square Garden on January 28, 2018 in New York City. (Photo by Kevin Mazur/Getty Images for NARAS)

Kevin Mazur
DJ Khaled and his son Assad attends the 60th Annual GRAMMY Awards at Madison Square Garden on January 28, 2018 in New York City. (Photo by Lester Cohen/Getty Images for NARAS)

Lester Cohen
Miley Cyrus carries a white rose at the 60th Grammy Awards on January 28, 2018, in New York. (ANGELA WEISS/AFP/Getty Images)

ANGELA WEISS