How to Instagram Like Rihanna? Don't Give a Damn
Here, ten easy steps to succeed on social media like Instagram's favorite bad gal.
---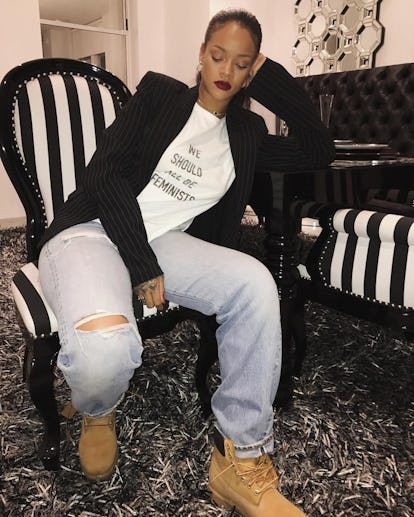 If you want to know the secret to Rihanna's success on social media, look no further than her Instagram handle, @badgalriri. Rihanna doesn't play by the rules in real life, and she certainly doesn't online, either.
Every time Rihanna posts on Instagram, she makes headlines. And even when she doesn't, her actions clog our feeds, from fabulous fashion moments to taking shots out of a diamond flasks at the most recent Grammy Awards. In sum, despite having close to 50 million followers, she's perhaps the realest celebrity on the platform. Here, ten things to learn from pop's many-faced goddess.
1. Be the viral meme you want to see in the world
At the most recent Grammy Awards, Rihanna was caught mouthing to her assistant, Jennifer Rosales: "I think it's time for another shot." But not just any shot—one out of a bedazzled flask, which matched her outfit, of course. The best part though is that Rihanna Instagrammed this moment the following morning, proving that not only does she not give a damn on camera, but also off. She's fully aware of her viral persona, and is the butt of her own joke before you can make it.
2. No, literally be a meme
Rihanna has chosen a childlike stick figure to represent herself to her millions of followers, which, as one W writer put it, is a "pared-down aesthetic true to the DIY approach of her handle—she's eschewed the traditional @rihanna for the decidedly more personable @badgalriri—and which shows up, periodically but reliably, throughout her feed, stretching back to 2014."
3. Always make a statement
Rihanna's most recent "protest looqs" during the Women's March featured a pink "Pussy grabs back" sweatshirt. Prior to that she posted a photo of herself wearing Dior's "We should all be feminists" shirt.
4. Especially a meta one Rihanna's best political fashion statement by far was her Hillary Clinton shirt back in November. She posted a selfie wearing a shirt that had a photo of her wearing a shirt with Hillary Clinton's face on it. Needless to say, it sent a clear message of where her loyalties lay during the election.
5. Get real about charity, though
In addition to posting often about politics, Rihanna also does real hands-on work for charity. In this photo, she surrounds herself with young students for her work with the Global Partnership for Education.
6. Throw shade that's so shady, it might not even be shade
Around the time of her rumored relationship with Drake, Rihanna posted this quote with no explanatory caption, only an emoji: Champion. There was really nothing more than needed to be said, but naturally the Internet nearly broke in response to shade of this caliber.
7. Remember your roots
Rihanna is a family woman and loves to post photos of her adorable nieces, as well as her father, Ronald Fenty, who still lives in Barbados.
8. Show your true colors
Maybe the only thing better than being at Carnival is seeing Rihanna have the time of her life at Carnival each year.
9. Let your hair down
Some of Rihanna's most liked photos from 2016 were of her rocking extra-long dreads.
10. Know that there's no one badder than you
In the end, what keeps us coming back to Rihanna's profile is her sense of humor and realness, but most of all, her fashion moments. As evidenced with this Saint Laurent heart-shaped look, Rihanna style is all about self-love—inside and out.
See inside W magazine's September cover featuring Rihanna, below.