Louis Vuitton and W Magazine Celebrate Awards Season With Star-Studded Dinner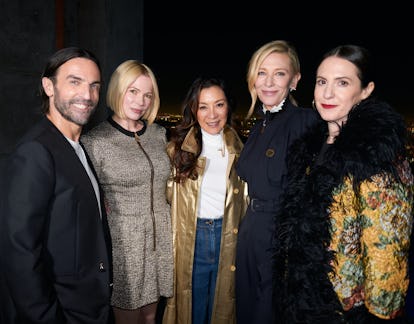 Louis Vuitton Artistic Director Nicolas Ghesquière, Michelle Williams, Michelle Yeoh, Cate Blanchett, and W Editor in Chief Sara Moonves all wearing Louis Vuitton. Photo by Greg Williams.
Awards season—in all its electric, edge-of-your-seat, dressed-to-the-nines glory—began in earnest on Friday evening in Los Angeles. A crowd that included the most celebrated performers of the past year—among them, several Oscar front-runners—filled the candlelit halls of an iconic brutalist home in Beverly Hills to kick things off over a stunning meal with views of the glittering city skyline. It was an intimate night in an epic setting, setting the tone for what is sure to be a major few months ahead.
Hosted by W Editor in Chief Sara Moonves and Louis Vuitton Artistic Director Nicolas Ghesquière, the dinner got started early and continued late into the night, with stars from the worlds of both film and TV mingling, meeting, and wishing each other good luck. Among the first to arrive were Danielle Deadwyler, who's been receiving a roar of praise for her performance in Till, and Michelle Yeoh, who cemented her status as a silver screen icon in Everything Everywhere All at Once. Michelle Williams, star of The Fabelmans, warmly embraced Ghesquière, an old friend. Cate Blanchett was spotted catching up with her Tár co-star Nina Hoss, and the film's director Todd Field. At one point, Yeoh, Blanchett, and Williams — all nominees for Best Actress at this year's Golden Globes and decked in Louis Vuitton ensembles with varying flashes of gold — circled up for a friendly chat with Moonves and Ghesquière.
Cate Blanchett in Louis Vuitton. Photo by Kevin Mazur/Getty Images for W Magazine
Michelle Yeoh in Louis Vuitton. Photo by Kevin Mazur/Getty Images for W Magazine
Michelle Williams in Louis Vuitton. Photo by Kevin Mazur/Getty Images for W Magazine
Louis Vuitton Artistic Director Nicolas Ghesquière and W Magazine Editor in Chief Sara Moonves. Photo by Kevin Mazur/Getty Images for W Magazine
The magnetic crew of The White Lotus was out in full force,: Meghann Fahy, Haley Lu Richardson, Federico Ferrante (who plays Rocco) and the show's music consultant Este Haim (who arrived with her sisters Danielle and Alana in tow, in coordinating LV looks with trousers in shades of blue and deep pink) were attracting a flood of compliments — and inspiring cocktail hour jokes about the dramatic, concrete-walled home being the perfect setting for a murder mystery show.
Kaia Gerber and Austin Butler, who made their first public appearance as a couple at a W event nearly a year ago, arrived together and remained attached at the hip all night. In a full-circle Elvis moment, Butler was seen chatting with Riley Keough, the actor and Elvis's granddaughter. Another golden couple, Tell Me Lies stars Grace Van Patten and Jackson White, also attended, and caught up with their fellow Hulu star, The Great's Elle Fanning. There was also a Zola reunion of sorts: Keough spent time with fellow cast members Taylour Paige and Colman Domingo. Hacks star Hannah Einbinder arrived with the show's co-creators, Paul W. Downs and Lucia Aniello, straight from filming the show's third season. Ram Charan, star of the Indian film RRR, a frontrunner at the Globes for Best Foreign Film, also attended ahead of what's destined to be a big night for the production.
Mia Goth, Taylour Paige, and Riley Keough. Photo by Kevin Mazur/Getty Images for W Magazine.
Taylour Paige and Colman Domingo. Photo by Kevin Mazur/Getty Images for W Magazine.
Dinner was a dazzling multi-course spread by chefs Walter and Margarita Manzke, who were recently awarded a Michelin star for their contemporary French restaurant Manzke, with cocktails by their mixologist partner Shawn Lickliter. Guests tucked into caviar, Maine lobster in coconut Thai curry, saffron risotto and wild turbot before finishing things off with stunning coupes of strawberry tiramisu — a serious L.A. food scene moment.
As the meal wound down, a French crew that included director Alice Diop, actors Stacy Martin and Marina Fois, and Holy Spider's Zahra Amir Ebrahimi, who won best actress at the 2022 Cannes Film Festival, chatted away in their native tongue. Meanwhile, the eclectic crowd that included Thuso Mbedu, Miranda Kerr, Phoebe Dynevor, David O. Russell, Mia Goth, Jurnee Smollett, Li Jun Li, Kelsey Asbille, and Devon Ross mingled, discussing their favorite films of the year and getting into the swing of what's sure to be an awards season for the books.
The most charged topic of the night: which film will take home the Oscar for Best Picture? With representatives from Everything Everywhere All At Once, The Fabelmans, Tár, and Elvis all in the room, one thing was for sure — there was a winner among us.
Photo by Kevin Mazur/Getty Images for W Magazine
Photo by Kevin Mazur/Getty Images for W Magazine
Photo by Kevin Mazur/Getty Images for W Magazine
Photo by Kevin Mazur/Getty Images for W Magazine
Haley Lu Richardson in Louis Vuitton. Photo by Kevin Mazur/Getty Images for W Magazine
Photo by Kevin Mazur/Getty Images for W Magazine
Photo by Kevin Mazur/Getty Images for W Magazine
Photo by Kevin Mazur/Getty Images for W Magazine
Photo by Kevin Mazur/Getty Images for W Magazine
Photo by Kevin Mazur/Getty Images for W Magazine
Photo by Kevin Mazur/Getty Images for W Magazine
Photo by Kevin Mazur/Getty Images for W Magazine
Jackson James White and Grace Van Patten

Photo by Kevin Mazur/Getty Images for W Magazine
Photo by Kevin Mazur/Getty Images for W Magazine
Photo by Kevin Mazur/Getty Images for W Magazine
Photo by Kevin Mazur/Getty Images for W Magazine
Photo by Kevin Mazur/Getty Images for W Magazine
Photo by Kevin Mazur/Getty Images for W Magazine
Photo by Kevin Mazur/Getty Images for W Magazine
Photo by Kevin Mazur/Getty Images for W Magazine
Photo by Kevin Mazur/Getty Images for W Magazine
Photo by Kevin Mazur/Getty Images for W Magazine
Photo by Kevin Mazur/Getty Images for W Magazine
Danielle Haim, Alana Haim, and Este Haim

Photo by Kevin Mazur/Getty Images for W Magazine
Photo by Kevin Mazur/Getty Images for W Magazine
Photo by Kevin Mazur/Getty Images for W Magazine
Photo by Kevin Mazur/Getty Images for W Magazine
Photo by Kevin Mazur/Getty Images for W Magazine