On Love & Death, Candy Montgomery's Outfits Tell Their Own Dark, True Crime Tale
The series costume designer Audrey Fisher on the research that went into recreating the real life Texas housewife turned axe murderer.
---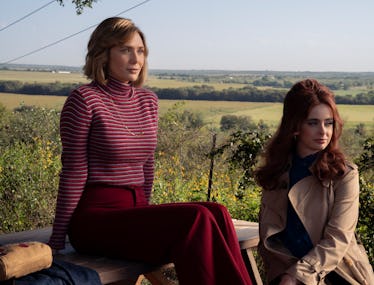 Photograph by Jake Giles Netter/HBO Max
From the moment Audrey Fisher read about the Candy Montgomery case, she knew the task of bringing the housewife-turned-murderer to life on screen would be a difficult yet fulfilling one. "I just was fascinated by Candy and I thought, 'Well, this would be an incredible character to costume,'" Fisher, the costume designer for HBO Max's Love & Death tells W. A proper Methodist mother one moment, a lingerie-clad adulterer the next, and an axe-wielding murderer not too long after, Candy's revolving identities provided Fisher the challenge of creating a multifaceted wardrobe that still stayed authentic to the late '70s, early '80s time period of the story.
It helped that Fisher has experience dressing characters for that era, having spent two years working in the costume department of That '70s Show. Of course, a true crime drama like Love & Death has a decidedly different tone than a network comedy, but the research Fisher "hoarded" from her time on the hit series did prove helpful. "The authenticity is amped up a bit," she says of Love & Death's wardrobe. "You're recreating real people's lives and how they dressed, which is different, but also really fun. Still, it's such a tragic story, and I tried to take that responsibility seriously and respect the legacy of these people."
Research began right away, with the reading of the two-part Texas Monthly article from which the show gets its name and source material. "It's like a Pandora's box," she says of the bloody story. "It just keeps getting stranger and stranger." From there, Fisher scoured court footage, taking screenshots as she watched, knowing these were looks she would have to recreate. But not every outfit on the show was actually worn by the characters' real-life counterparts (though an impressive amount are pretty close). So, Fisher dove into the world of small-town Texas dressing in the late '70s in order to accurately depict the many characters surrounding Candy. While she flipped through magazines from the time period, in this case, Fisher didn't find them as helpful.
"This is a bedroom community of Texas," she says of Wylie, the small town where the crime took place. "The fashion isn't so up to date. It's not LA or New York, trends trickle in at a slower pace." In order to get an idea of what people were wearing, Fisher focused on Sears and Montgomery Ward catalogues, yearbooks, and "Facebook for parishioners," or church directories. "All the members of the church would dress up and have a portrait taken of their family, and then a directory was created," she says. "That was an incredible reference because it really displayed Sunday best looks for families in these little towns."
From there, Fisher "poured over every costume shop" in her native Los Angeles for '70s pieces. "A lot of '70s shows were also prepping at the same time, but we got lucky because they were either set earlier in the decade, or looking for more city-focused, fashionable looks," she recalls. "So we kind of had this nice conservative, Methodist sweet spot." Vintage vendors, Etsy, and online retailers like Rusty Zipper also proved useful, and when it was time for production to begin in Austin, Fisher had an 18-wheeler packed with over 80 crates, ready to head south.
It might seem excessive, but Fisher had quite the project ahead of her. There was a whole community to dress, including children, parishioners, and in the latter half of the season, jury members, reporters, and protestors. Olsen's character alone likely required a good portion of those crates, as Fisher created 120 looks just for Candy. Many of those were direct recreations, though Fisher did work with Olsen to choose colors and silhouettes that made the actress feel comfortable. "I really wanted to recreate as faithfully as possible, but since it's not a documentary, I did have some creative license," she says. The costume department was able to seek the guidance of Robert Udashen—the show's consultant and one of Candy's actual lawyers—in order to confirm the accuracy of various looks. "He always approved, thank god."
Despite the immense volume of costumes, there are a few that still stand out to Fisher, namely the blue sequined dress Candy wears for a night of dancing with Krysten Ritter's Sherry at the end of episode two. Fisher worked with Olsen to design the look as the actress "had a very specific idea of how she wanted to portray Candy in that scene." According to Fisher, Olsen "really wanted her shoulders to show. She wanted a lot of movement, a lot of sparkle." The result is a knee-length dress with a slight slit that comes to life under the disco lights as Candy line-dances to the Bee Gees in silver platform Gucci heels.
Fisher's other favorite look comes in episode four, when Candy is brought into the police station to discuss the murder of Betty Gore. In Evidence of Love, the 1984 book about the murder, authors Jim Atkinson and Joe Bob Briggs describe the outfit Candy wore that day, which helped to guide Fisher's design. "She puts on this kind of glamorous, almost like a date look," Fisher says. The costume designer created the whole outfit from scratch when she couldn't source pieces that resembled the description. In the end, Candy heads to the station in a black boat neck blouse, a black and white striped skirt, and Gucci pumps. It's a bit much for a chat with the police, proving Candy's struggle to maintain her grip on normalcy at this point. It's enough to make her apathetic husband, Pat, take notice, and likely the detectives as well. "I think Lizzie felt really beautiful in it," Fisher says.
These two looks, for Fisher, demonstrate Candy's dichotomous personality, as the character easily swings between night club mystique and sophisticated elegance. She describes Candy's outfits as armor or costumes, but not in the traditional sense. "She's a character, and throughout the story, she continuously becomes new kinds of characters," Fisher explains. "I knew we'd have to pull off a magic trick in order for Candy make sense." A magic trick, but also an 18-wheeler and some vintage Sears catalogues.