My Life in Parties: Christian Louboutin
As he's honored with a museum retrospective, the shoe designer revisits highlights of his glamorous, joyful social life.
---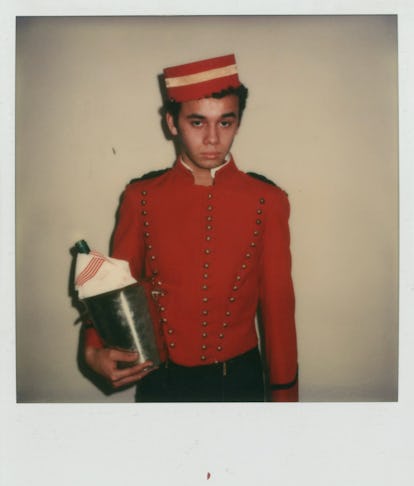 Around the corner from the apartment where the shoe designer Christian Louboutin grew up, in Paris's 12th arrondissement, is the imposing Palais de la Porte Dorée museum. From the age of 10, Louboutin would spend his afternoons there. "It was the first place that opened me up to other civilizations and objects," Louboutin says. "African thrones and masks, totems from Polynesia, feathers, shells—it had a huge impact on me. It made me dream." On a visit a few years ago, Louboutin noticed that the building was in disrepair; he made a donation and struck up a friendship with Hélène Orain, the director. "She told me, 'We need to do something with your eye in the museum.' " Olivier Gabet, the director of the Musée des Arts Décoratifs, came in to help curate, and the result is "Christian Louboutin: Exhibition(niste)," which opens this month. In addition to sketches and shoes and photographs and holograms, there are contemporary works by Allen Jones, David Lynch, and the digital artist Lisa Reihana, among others; a sixth-century gold cross on loan from the Musée de Cluny; and a 16th-century painting of a male courtier whose attenuated leg wears a stocking that blends seamlessly into his slipper. The latter was the inspiration for Louboutin's capsule collection the Nudes, a group of pumps and flats in nine shades made to disappear onto the legs and feet of women of all skin tones. "I wanted to include things I love and that have influenced me," Louboutin says.
"[The singer and actress] Arielle Dombasle and I have been friends for a long time. I did her wedding shoes. She was part of the film director Éric Rohmer's gang, and we filmed a lot of Super 8 movies for him under the name Rosette. Those little Super 8's were important to him, like a laboratory for later movies."
The clothes at Le Palace were the point. For Darré, Louboutin, and their group, looking fabulous was a way to sing for their supper and rub elbows with Yves Saint Laurent, Mick Jagger, and Karl Lagerfeld, among many others. "My friend Farida Khelfa and I would get on the phone every day for a debriefing of the night before. Who wore what, who had bad outfits—all the drama."
"Photo booths were great. I lived with the photographers Pierre et Gilles at the time, in a little room just above their apartment on the Faubourg Saint-Antoine. There was a booth in a movie theater nearby, and they would always ask me to bring pictures. This is with my friend the writer Eva Ionesco."
"That's the fashion designer Zandra Rhodes, Vincent [Darré, who would go on to become a sought-after interior designer and creative director], and Duggie Fields, a painter whom I love, at a party of Zandra's in London. I was maybe 14 or 15. We took the bus and a boat from Paris, and slept on the floor of a friend of Duggie's."
With Farida Khelfa and a friend, around 1980. Khelfa left her strict Muslim family in Lyon when she was a teenager and moved to Paris. She worked at Le Palace and Les Bains Douches, two glamorous nightclubs. "When she got to Paris, she was living at a friend of her older sister's and then ended up at my parents' house until she was a legal adult. She's my fourth sister."
"I think I was 14 or 15 here, and Farida still had her baby fat! But she was always magnifique. This was in the photographer Christine Brossard's apartment."
"An angel-and-devil-themed party at Le Palace. I was doing a masculine-feminine look in fluorescent yellow, with a jet bead necklace I loved. That night I fell on someone's foot and threw up, then I looked up and it was Yves Saint Laurent."
"Ms. Diane von Furstenberg is divine to travel with. We did the whole Silk Road together, going to the middle of nowhere in Uzbekistan to find some ikat-fabric maker she wanted to see. Here, we're in Egypt on my boat. We'd wake up and chat and fall back asleep again. 'You didn't see anything of Egypt!' I told her. She said, 'I know, but I slept so well!'  "
"This is me with Eva Ionesco in the VIP room at Le Palace. I was 16 and had just gotten back from a three-month trip to India, where I had lost 10 kilos, so I was skinny and tan." Ionesco was another member of the Louboutin-Darré Palace gang. She became infamous as a child for appearing in nude photographs taken by her mother, the artist Irina Ionesco, and, like Khelfa, eventually moved in with Louboutin's parents to escape trouble at home.
"I'm with my older sister and her boyfriend in London, wearing my gégènes, a kind of pointy-toed shoe. They cost me 40 francs, which was my salary for doing a film about the history of homosexuality called *Race d'Ep!*"
"That's with my friend Pauline; Claude Charles-Dominé, a sort of date who was a professor at the fashion school Studio Berçot; and Vincent. These were also for Pierre et Gilles. We'd take pictures of us, but Gilles would also ask us to bring ones we'd find that were discarded by unknown people. Pierre et Gilles just gave something like 30,000 of them to the Centre Pompidou—some of Gilles, some of friends like us, and then the unknowns."
"I've always had a fascination with showgirls." Decades after working at the Folies-Bergère, where he was a coffee boy when he was 17, Louboutin became the Crazy Horse Paris cabaret's first guest creative director in 2012 with a show called "Feu" ("Fire")—he created four numbers, redid an older one, and designed all the dancers' shoes. Here he is at the Moulin Rouge, in the Pigalle neighborhood of Paris. (Pigalle is the name of one of Louboutin's best-selling stiletto pumps.)
Marie de Beistegui, on her wedding day to Frédéric Malle in 1990, in custom shoes by Louboutin. De Beistegui has been a client and a friend since before Louboutin even opened his first boutique. "A lot of people for whom I've done custom shoes have told me that they bring them luck. In an important moment, I think people remember their shoes."
"This was very early in the morning. An illustrator called Patrick Arlet, who worked a lot for Playboy, wanted to do a portrait of me and I was supertired, clearly not in the mood!"
Louboutin's parents gave their son a lot of freedom. By age 13, he was partly living with his boyfriend in this apartment near Beaubourg, in central Paris. "It was a student apartment but a lovely place, with lots of photography and paintings."
"Princess Caroline of Monaco [now Hanover] was one of the first people to shop at my boutique." A doodler, Louboutin worked with Charles Jourdan before freelancing with Chanel and Maud Frizon, becoming Roger Vivier's assistant, and then launching his company in 1991. Today he has boutiques around the world, and has amassed a clientele so famous that his unmistakable red soles are the subject of pop songs (Hello, J.Lo!) and television subplots (Sex and the City).
Dancing at his parents' apartment. "Aside from the Palais de la Porte Dorée, there were Bollywood and Egyptian movie theaters around the corner."
"In Race d'Ep!, which was a terrible film, I played the leader of a gang of young Sicilian boys who were photographed by Baron Wilhelm von Gloeden like young ephebes in Pan outfits."
"This was in my brand-new store, in 1992, when Farida came to see it." By then Khelfa was a successful fashion model, having been taken under the wing of the photographer Jean-Paul Goude.
Louboutin has worked with everyone from Beyoncé to Scarlett Johansson, and has established plenty of high-profile friendships. Still, some stand out more than others. "I love Dita Von Teese. She is the ultimate showgirl, obsessed with detail and quality. She has the power of a young girl who dreamed. At her wedding, her father asked me, 'Where does she get it from? When she was 13, she asked me for books on Marie Antoinette's furniture and porcelain. We grew up in a town with one drugstore!' Dita has a huge, natural appetite for sophisticated things. It's a gift."