Everything We Know About My Policeman, Starring Harry Styles and Emma Corrin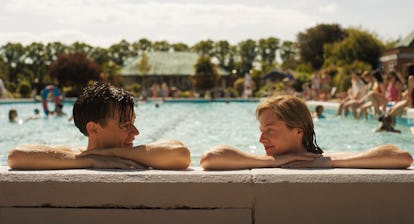 Courtesy of @primevideo
The more Harry Styles pivots to movies, the more his roles get hyped. And after months of paparazzi photos of him and his costar, Emma Corrin, having a ball on set, we finally have a good idea what the deal is with his next film. And from the sound of it, My Policeman, an adaptation of Bethan Roberts's heartbreaking 2012 novel of the same title, may feature Styles's best performance yet. Ahead of its September premiere at the Toronto Film Festival, read of for the answers to all your questions about what Styles, Corrin, and the Tony Award-winning director Michael Grandage have in store.
Is there a trailer for My Policeman?
On September 7, Amazon Prime followed up on the film's teaser with a two-minute preview set to the tune of Cat Power's cover of "Sea of Love." We learn that Styles and Corrin's characters, Tom and Marion, get married—not that that stops the former's "all-consuming" love and affair with a museum curator and aspiring artist named Patrick (portrayed by the movie's breakout star, David Dawson). Marion is heartbroken when she spies them sharing an intimate moment, convinced that Patrick is "trying to destroy [her] marriage." Meanwhile, Tom and Patrick are doing their best not to get caught by the cops; My Policeman is set in 1950s England, when homosexuality was illegal. It's also interspersed with scenes from the 1990s, when Tom, Patrick, and Marion awkwardly reunite. (Linus Roache, Gina McKee, and Rupert Everett play the older versions of their characters.)
How did Styles get involved with My Policeman?
At first Grandage had his doubts about the 28-year-old pop star and budding actor; it was his team who reached out about the role, claiming that Styles had immense interest in My Policeman. He did indeed: By the time he showed up to his first meeting with Grandage, he'd memorized all of the lines in the film. "He had read the script so many times that he knew every single beat of it at that meeting," the director told Vanity Fair in the first official look at the film on June 9. "I found that incredibly impressive." Meanwhile, Corrin was also familiarizing themselves with the script: Styles sent it to them, seeking their opinion on the project long before they signed on as his costar. The marks their first major role since they broke out with their portrayal of Princess Diana in The Crown season 4, which earned them the 2021 Best Actress Golden Globe Award.
Is My Policeman a love story?
Most definitely, though Styles and Corrin don't portray the true romance. Partially set in 1950s England, Styles plays Tom, the titular policeman who's married to a somewhat mousy schoolteacher named Marion (Corrin), even though he's gay. In fact, he's already in a relationship, with an art curator named Patrick (David Dawson). Unsurprisingly, their marriage is rocky—and especially so when the plot jumps to the the 1990s, when the trio unexpectedly reunites.
Much on the internet has been made of rumors that Dawson and Styles get particularly intimate, and Styles himself has confirmed that the film contains some "saucy scenes." "I don't know if you can watch either with your parents," he told Capital FM of both My Policeman and Don't Worry Darling. (Directed by his girlfriend, Olivia Wilde, the latter upcoming film stars Styles as the husband of a suburban housewife played by Florence Pugh.) Grandage told Vanity Fair that the crew took care to avoid prurience—"to quite literally show something that was about 'lovemaking' in the broadest sense of the word, something that was choreographically interesting and not just some kind of thrusting sense of sex going on."
What's the deal with David Dawson and his character, Patrick?
Patrick is older than Tom—in real life, Dawson is 12 years Styles's senior— adding another layer to their relationship. We know from set photos that the characters aren't completely secretive: They were photographed together on the street in broad daylight. Dawson himself is something of a mystery, too: He has yet to post much since creating an Instagram this past March. And while he has a he theater actor only made an Instagram this past March, and has yet to post much at all. His background is in both theater and TV; you may recognize him from British productions like Luther, Peaky Blinders, and The Road to Coronation Street.
Why are there two Toms, Patricks, and Marions?
Styles, Dawson, and Corrin's scenes are all flashbacks. The film begins in 1957, which is why Tom didn't publicly disclose his sexuality: Homosexuality was then illegal in England. The trio then crosses paths again in the 1990s, with all the characters played by older actors. Linus Roache (of Homeland) will play Styles's older counterpart, and Gina McKee (of Atonement) will play Corrin's. Fans are particularly excited about Rupert Everett, who will portray Patrick as an aging invalid. The actor has been a trailblazer from the start, beginning with his role as a gay former public school student in 1930s England, in 1984's Another Country. He himself came out in a novel five years later, and has repeatedly opined whether coming out so early in his career may have hurt it.
"Honestly, I would not advise any actor necessarily, if he was really thinking of his career, to come out," he said in 2009. "The fact is that you could not be, and still cannot be, a 25-year-old homosexual trying to make it in the British film business or the American film business or even the Italian film business. It just doesn't work and you're going to hit a brick wall at some point." To put Tom's reluctance to come out of the closet into context, Everett said as much more than four decades after My Policeman kicks off, which was at least a decade before the Sexual Offences Act was repealed, legalizing homosexuality in England and Wales in 1967.
Will Harry Styles's casting overshadow the film's intent?
If the novel is any indication, it's possible that My Policeman will be a nuanced success. Though with Everett the only openly gay actor amongst the core cast, there's certainly been some discussion about its commitment to representation. Styles's own relationship to sexuality has certainly been a cause for discussion over the years, though his public relationships have all been with women such as Taylor Swift and Olivia Wilde. None of that binary thinking, though, has made him state anything definitively.
"Am I sprinkling in nuggets of sexual ambiguity to try and be more interesting? No," Styles told the Guardian in 2019. "I want things to look a certain way. Not because it makes me look gay, or it makes me look straight, or it makes me look bisexual, but because I think it looks cool. And more than that, I dunno, I just think sexuality's something that's fun. Honestly? I can't say I've given it any more thought than that." Corrin, who is queer and nonbinary, seems to have similar thoughts about identity. "I think we are so used to defining ourselves," they said last year. "That's the way society works within these binaries and it's taken me a long time to realize that I exist somewhere in between and I'm still not sure where that is yet."
With Ron Nyswaner on board, the film seems to be in good hands. The screenwriter, who is openly gay, regularly chooses projects dealing with homosexuality, AIDS, and homophobia. He most notably wrote the screenplay for Jonathan Demme's 1993 film Philadelphia, which earned him nominations for an Oscar, Golden Globe, and BAFTA.
When does My Policeman premiere?
This year's Toronto Film Festival, which takes place in September, will play host to the film's world premiere. The public will have to wait a bit longer for Hazza to break their hearts. My Policeman hits U.S. and U.K. theaters on October 21, and streams worldwide on Amazon Prime on November 4.
This article was originally published on