Naomi Campbell on the First Thing She'll Do Once Quarantine Is Over
One of the world's most famous supermodels, Naomi Campbell has become a central voice in this pandemic.
---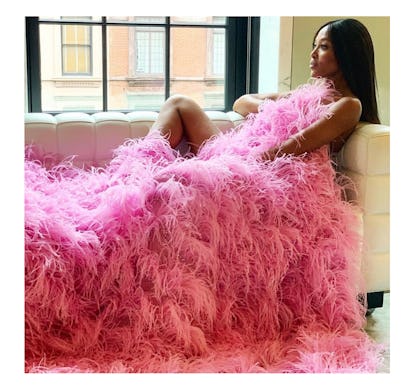 Naomi Campbell. Photograph courtesy of Naomi's Instagram, @naomi
To coincide with the launch of W's stay-at-home Instagram challenge, we reached out to the people for whom a shelter-in-place order is an opportunity for creativity, a call to action.
During a moment when so many celebrities and public figures have been getting it wrong, this eclectic crew has managed to hit all the right quadrants of empathy, humor, creativity, and realness. They've been lifting our spirits between all the dark news and the somber moments, reminded us to laugh, provided us with a much-needed distraction from the very real fears and tragedies, and been caring and thoughtful about what they've put out into the world. While we can't compare them to the doctors, nurses and essential workers risking their lives daily, the people who have pivoted to making charitable contributions, stepping up as entertainers, and sharing mental health resources have added something positive.
One of the world's most famous supermodels, Naomi Campbell has become a central voice in this pandemic. Using her existing YouTube channel, Campbell has launched "No Filter With Naomi," an already beloved series centered on conversations with supermodel friends, and is broadcasting her workouts daily on Instagram Live.
See all the people defining quarantine culture here.
[vimeo 408192177 w=400 h=500]
Have you developed a morning ritual in quarantine? What is it?
My morning is the same type of morning I've always had: I wake up, I pray, and I get ready for my day. I'm not going out, but I'm doing it as if I was, as if I were going to work.
How have you been expressing yourself?
For me, it's more additions to what I was already doing. I haven't gone and done something that's completely out from what I do. Like my workout stuff: I was showing my workout on Instagram before, but I wasn't doing it Live, and now I am. The YouTube videos, which I was doing before—I signed with them 2018, so we just added that live aspect.
Is there any content that's been particularly inspiring to you during this time?
I read many different books. One of the books I did pick up again is "The Long Walk to Freedom." Nelson Mandela endured 27 years of solitude. I think this is a great book to read now. I read it for the very first time after I was given the book, by him—and now I just thought it's a really good one to read again at this moment.
What about a particularly inspirational person?
I'm talking to people all the time, in different ways. Whether it be mothers, my friends who are in London, nurses. It's great to be able to talk to friends and show it, which is what "No Filter" is. It wasn't something that was like, I'd love to do it and hear what my friends are doing around the world at this time. It's not like an interview with my friends, it's just talking and letting everyone get to have a little peek into these people's lives.
Everyone's feeling—and what they feel counts. Everyone is going through it in different ways, but it all matters. What they're going through psychologically, physically, spiritually, it all matters. I think that's where people are going to be more compassionate now. They'll be open to that, when everything was so fast and fleeting before. I'm just embracing what we're going through and I'm trying not to have any expectations. And going day by day—that's how I deal with it, day by day. I'm not trying to look to tomorrow, I'm not trying to look to two weeks from now, I'm just trying to stay in my day. That's how it keeps me grounded. I'm trying to remain optimistic, and just trying to keep it simple, really. Keep my time occupied. I've managed through, but now, we're going to go into new territory. I feel we can do this and it's going to be for the good.
What's the most memorable Zoom call that you've been on?
I'm a little bit scared of these Zoom calls, because I've heard so many things about hackers jumping in and out of them. So we don't do Zoom for when we do my Live show.
What's the first thing you'll do when all this is over?
I want to see my family. I would like to go home to London and be with them. I want to go home and see my mum. We've spoken by phone—thank god for Facetime—and thank god for the creation of the iPhone. It just makes you realize you're traveling at such a fast pace all the time. I'm privileged in many ways, to be able to use this as a positive time.
I'm not trying to be politically correct, even though I have my views, I will support the things that I always have. Nothing's changing about me, it's just being intensified: my cleaning routine, all those things, nothing's going to change.
I feel like I've been laughed at a few times around the world since the last six months, but that's okay too. I've been called a lot of names—ridiculous, she's out of her mind—but it's okay. It's not my business what people think. And now, I'm going to be totally normal, because everyone's going to be dressed in a hazmat suit, and everyone's going to be wearing a mask. That's going to be the new normal. Healthy mind, body, and spirit, getting up even when you don't want to. It's forcing yourself to really keep physically active, which helps my mind. All these things come into play. It's a whole new mind-set. It's going to be a whole new world. We don't know exactly what it's going to be like on the other side. There is uncertainty, but it's okay. We can go into the uncertainty.