Nick Jonas Supports Priyanka Chopra at the Premiere of Her New Show, Citadel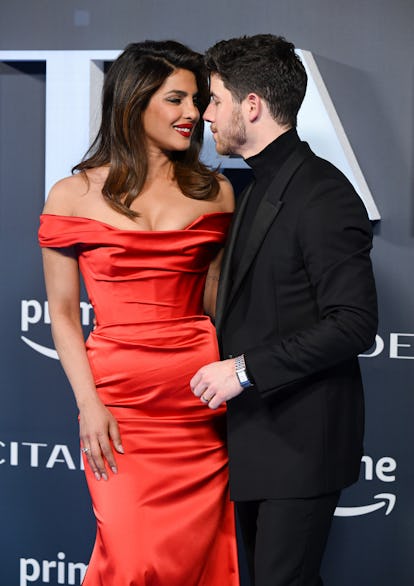 Karwai Tang/WireImage/Getty Images
Priyanka Chopra has husband Nick Jonas's support at the premiere of her new show, Citadel, on Tuesday night. The pair looked very much like the classic Hollywood couple as they posed for the cameras on the red carpet, and were unable to keep their eyes off each other.
Chopra played up the glamour for her big night, arriving in a bright red, off the shoulder Vivienne Westwood dress with a corseted bodice and draped neckline. She and her stylist, Rebecca Corbin-Murray, kept the rest of the look fairly simple, adding only Bulgari rings and earrings and a deep red lip. For his part, Jonas looked almost like a spy portrayed in the long-awaited Prime Video show, wearing a black turtleneck under his black suit.
In Citadel, Chopra plays Nadia, a member of the former Citadel spy agency who had her memory erased when it collapsed. When a crime syndicate threatens to take over the world, however, she and fellow spy Mason (portrayed by Richard Madden) must fight back while dealing with their forgotten past.
Chopra shared with Access Hollywood that she was drawn to the project after hearing of the concept, as well as the involvement of the Russo brothers, who executive produced the show. "I think the ambition of the show is very exciting and I was very excited to work with the Russo brothers I think they owned this lane," she said. "If anyone can think of something bigger and better than what they've done last it has to be them, so that was all very exciting." She also liked the fact that the story wasn't based on anything, a bit of a rarity these days. "The fact that we're creating an original franchise...that it transcends languages and borders and is actually truly global and goes into different countries and works with local film makers and connects it to ours it's just so amazingly delicious and that's really drew me."