In the Studio With Olivier Theyskens
On the heels of being appointed the new artistic director of Azzaro, the Belgian designer lets us in to the Paris studio of his namesake brand.
---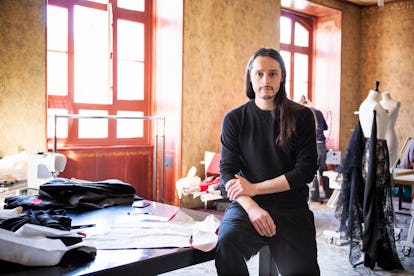 Photo Courtesy of Claessens & Deschamps
It's just three days until Olivier Theyskens's fall 2020 collection, yet all is calm in his 10th arrondissement studio in Paris. Books line the heavy wooden cases around the corner from where Theyskens takes meetings, while his design team, which he can count on one hand, is quietly putting the finishing touches on voluminous skirts, tailored jackets, and tightly constructed blouses.
"This time, I started very early on with this collection, which is not always the case," says Theyskens, sitting on his white couches near the looming bookcases. "Sometimes I start late, but this time it was very early on and I did almost all the patterns, so it felt as if I was just out of school again because I was refocusing on proportions."
Theyskens may be busy working on his namesake line, but for him, that's not the only task at hand. Two weeks ago, he officially began working on Azzaro as artistic director. Come July, Theyskens will present his first collection for the house on the official couture schedule, in which he will combine women's and men's ready-to-wear with couture. "I've never really created a limit between what is ready-to-wear and what is couture," he explains. "I always felt it is fluid conjunction, and I always thought that in ready-to-wear, I was seeing designers doing pieces that look like couture. For me, actually, couture is the service of a brand to provide to a customer who wants made-to-measure."
It's not the first time that Theyskens has worked under another label. In fact, fashion fans may know him best for his work at Rochas, Nina Ricci, and Theory. His namesake line was founded just three years ago. When the Belgian designer decided to start his own brand, he was lucky that the ground floor of the building he lived in had an open space for rent—which he turned into his then-studio. "Soon we were a small team and it was too small for us," he said. He moved to his current 10th arrondissement location, which he also uses to host his shows, about a year ago. "I was looking for a place that is really my office. Also, it's good to separate your work and privacy a bit." During the show, the usual atelier space becomes the backstage, while the courtyard lobby becomes the runway.
But despite his cozy, intimate-feeling studio office, Theyskens is based out of an entirely different location for his work with Azzaro, and he will not be merging the two at all. Rather than bring over part of his team to the fabled French couture house, Theyskens is opting to fly solo for the time being, and work with the existing team at the Rue Faubourg St. Honoré couture workshops. "I've experienced the two scenarios; where you come to a brand and bring your own team, but also you can come to a brand and create a team. Azzaro is a beautiful small house, and I enjoy this moment where I can get to know people, and see what they do."
"I am always different. I think it's very important to adapt," says Theyskens on the differences between his creative practices in the couture atelier at Azzaro versus his own label. "It's like in love. I think in love you are very different depending on your partner. In work, too, depending on the environment and the people you work with, your mindset becomes different and you make different decisions. You might make very different decisions than what people think you are usually doing."
Back at Theyskens's own studio, just days before the collection will hit the runway, there's still not a single hint of nerves in sight. Atypically from the usual state of a designer house before the runway show, Theyskens is calm and collected, and his apprentices and design team are all quietly working. Perhaps that sense of ease is due to the fact that Theyskens took such a hands-on approach this season, designing every pattern himself from scratch, and delving deep into the craft. "We are a very small and tight team, as you can see," he explains. "I want everybody to be happy and not to be overwhelmed with things, and nervous. This time, I don't know, I just followed my mood and started very early on."
Interestingly, though Theyskens is in many ways starting a new career chapter for himself with Azzaro, he considers his fall 2020 collection for his own brand to be a return to his roots. "Going back to mixes of materials; the very first ways I was mixing materials in a bizarre way," he notes. The play on proportions and severe, sharp structures and patterns is about as intrinsic to the Olivier Theyskens brand DNA as one can get. As for Azzaro, when asked what the aesthetic plan is after he wraps up his namesake runway show during ready-to-wear Paris Fashion Week, he responds jovially, "I hope people can be open-minded with what I do because, as always, I work with honesty. I want to bring honesty to my work."