Paris Hilton's Son Makes His Full Instagram Debut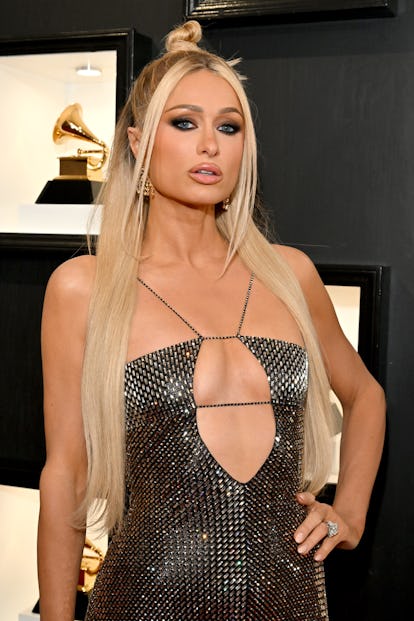 Lester Cohen/Getty Images Entertainment/Getty Images
A few weeks after revealing the birth of her baby boy, Paris Hilton has taken to Instagram to share the new heir's name, as well as the first photos of her little bundle of joy. On Thursday, Hilton posted photos with her husband, Carter Reum, and their son, Phoenix Barron Hilton Reum.
The pics feature the newborn Phoenix, whom the couple welcomed in January, with his head resting on his mother's shoulder as Carter kisses Hilton's forehead. A second photos shows just mother and son, with Hilton giving her child a kiss. "Baby Phoenix," she captioned the image. "Our whole entire world."
The face reveal comes a day after Hilton announced her son's name, as well as the reasoning behind it, on Instagram. On Wednesday, Hilton shared an excerpt from her upcoming book, Paris: The Memoir, featuring her process of picking a name for her son.
"We plan to name him Phoenix," she said in the video, explaining that she came across the name "years ago" while "searching cities, countries, and states on a map, looking for something to go with Paris and London." Hilton liked the name because of the meaning behind it. "It's the bird that flames out and then rises from the ashes to fly again," she said. "I want my son to grow up knowing that disaster and triumph go around and come around throughout our lives and that this should give us great hope for the future." In addition to Phoenix, her son also bares the middle name Barron Hilton, in honor of her late grandfather.
"He was always my mentor," she said on her iHeartRadio podcast This Is Paris on Wednesday. "I looked up to my grandfather so much, and we were so close, and I miss him every day." Hilton also revealed on the podcast that she didn't tell her family about her son's birth until her was a week old. "It was really nice to have that with Carter, be our own journey together," she said. "I just feel like my life has been so public, and I've never really had anything be just mine."