Paris Hilton Welcomes an Heir of Her Own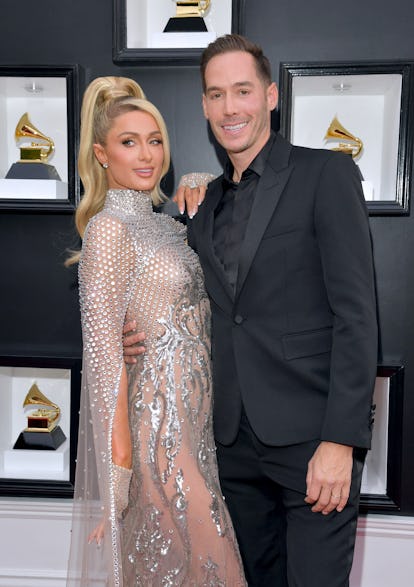 Lester Cohen/Getty Images Entertainment/Getty Images
Famous heiress Paris Hilton now has a heir of her own. The socialite and DJ just revealed that she is officially a mom. Hilton took to Instagram on Tuesday night to share the news, posting a photo of her holding a tiny little baby hand with the caption, "You are already loved beyond words."
This is Hilton's first child and she welcomed the baby—a boy, by the way—with her husband, Carter Reum, via surrogate. "It's always been my dream to be a mother and I'm so happy that Carter and I found each other," Hilton told People. "We are so excited to start our family together and our hearts are exploding with love for our baby boy."
Hilton and Reum, an author, entrepreneur and venture capitalist, married in November 2021 during a three-day event is Los Angeles. Though the couple were friends for over 15 years, they reconnected over Thanksgiving in 2019. "From that night, I felt the spark, and the rest is history," Hilton told Vogue. The pair then got engaged in February 2021 while on vacation for Hilton's 40th birthday and tied the knot just nine months later.
Hilton has always been very outspoken about her desire be a mother. She told People back in December 2022 that the couple began the IVF process during the height of the COVID-19 pandemic. "We started going and doing it like a few months in because the world was shut down," she said. "We knew we wanted to start a family, and I was like, 'This is perfect timing. Usually I'm on a plane 250 days out of the year, and let's just get all of the eggs stocked and ready,' and we have tons of them just waiting." Despite that, the couple wanted to enjoy their first year of marriage together before throwing kids in the mix, and considering they just celebrated their first anniversary a few months ago, it seems like the timing worked out.
Of course, everyone is very happy for the couple, and Hilton's Instagram was flooded by comments from her famous friends. "So happy for you guys!!!" Kim Kardashian wrote, with Kris Jenner sharing her sentiments as well. "Congratulations to you both, biggest blessing," said Naomi Campbell, who welcomed her first child in 2021. Elle Fanning, a certified fan of Hilton's, couldn't contain her excitement. "CONGRATULATIONS! Most beautiful mommy," the actress added to the post.
While we know the newborn is a boy, that's about all the information we have as of now. Hilton has not shared his name, nor when he came into the world. Hopefully, the reality star and business woman will give us a peak inside her life as a new mom sooner rather than later.