Prince William Wants to Focus on His Noodles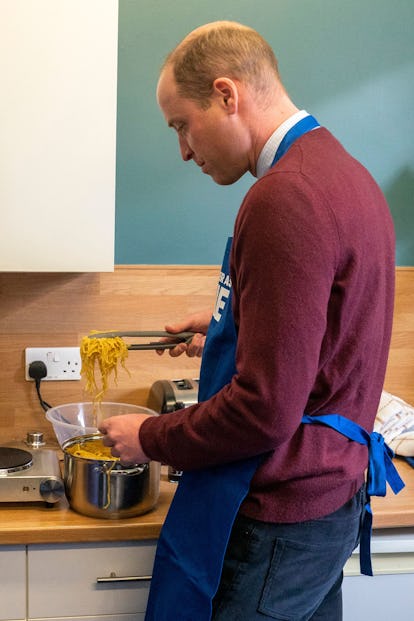 ARTHUR EDWARDS/AFP/Getty Images
Prince Harry's revealing memoir Spare has undoubtedly stirred the royal pot—but in public, Prince William would rather stir another type of pot altogether. The royal family has so far remained tight-lipped (publicly, anyway) about all the secrets, accusations, and "todger"-cream tips contained in the book. Instead, they've opted to carry on as usual, though perhaps in a more controlled fashion. (They've ignored any of the questions about the book yelled at them, so far. Although it's not very royal to acknowledge anyone yelling things at you under any circumstances).
Indeed, on Tuesday, the future King William took a page out Martha Stewart's 2002 scandal-era playbook, and opted to focus on his public cooking instead. Williams stepped out for a solo trip to visit Together as One, a children's charity focusing on social change in Slough, a town near his Windsor headquarters. There, he took part in cooking lessons with children, stirring up some noodles. Mind, you, he did not lead the lessons: a chef and teacher took on that duty, with William admitting his own culinary skills are somewhat limited. "I do a mean steak," he said, according to the BBC. "My sauces come out quite dry or lumpy—I've got to work on those."
The Prince also talked to students involved with the programming about pressing issues, including the cost of living and knife crime—all in an average day's work for a royal.
We suppose William would rather talk about knife crime than he would his brother's book. While out during an appearance last week with his wife Princess Catherine of Wales, he ignored all questions about the tome. No other member of the family, including King Charles, has commented either. Not even Duchess Sarah "Fergie" Ferguson has made a peep so far. Instead, they've all stuck to Queen Elizabeth's old alleged motto, "never complain, never explain."
Unless you're complaining about your own lumpy sauces, that is.